December 5, 2018 | Events, Wine | Scott Harvey
2018 Harvest Recap
I have not missed a harvest since 1974, this being my 45th harvest. I'm wondering how many more I have in me? Especially after this 2018 harvest. Some harvests come and go quickly and are over before you know it. This was not one of those. It was one of those long drawn out harvests that just seemed to go on and on… Fortunately, the long drawn out ones tend to produce the best most flavorful and extractive wines. Harvests like 1974, 1979, 1986, 1991, 1997, 2016 and now 2018.
Harvest started for us on September 6 with Muscat Canelli off our estate vineyard. The grapes are in frozen storage waiting to be pulled out to produce Ice Wine. So, technically harvest is still not over until we process the Muscat Canelli Eis Wine.
We finished harvesting grapes on November 6 and 7 with both the Portuguese varieties for our Forte and Concord for the Tickle Me Pink.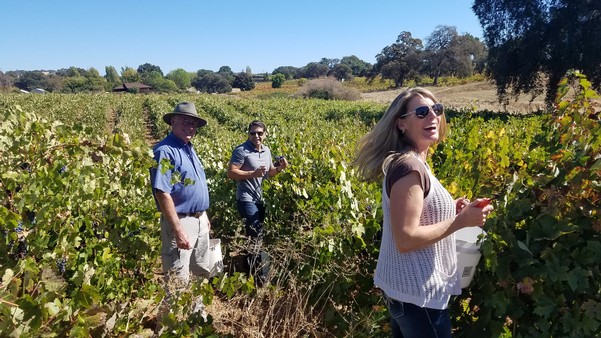 As in most late harvest years, the yields were a little above average in size. We had a wonderful spring with a good healthy flowering for all varieties except the Tempranillo. Our neighbors in Amador County had the same complaint about their Tempranillo.
The growing season was dry and with periods of cool weather and some long hot spells. The hot spells were early enough in the growing season that they did not negatively affect the grapes with excessive sun burning. Harvest began later than normal and went on and on with no rain until early October. I say the best Zinfandels in Amador are made after the first rain. So, it was welcome. After the rain, it dried out quickly with a North wind, so we escaped any molding in the Zinfandel.
Resulting wines are full and extractive with good acidity and lots of regional and varietal character. Wines that were similar to the great 1991 wines I produced at Santino/Renwood.
Cheers,
Scott Harvey
Winemaker