March 10, 2023 | Scott & Jana Harvey
Women in Wine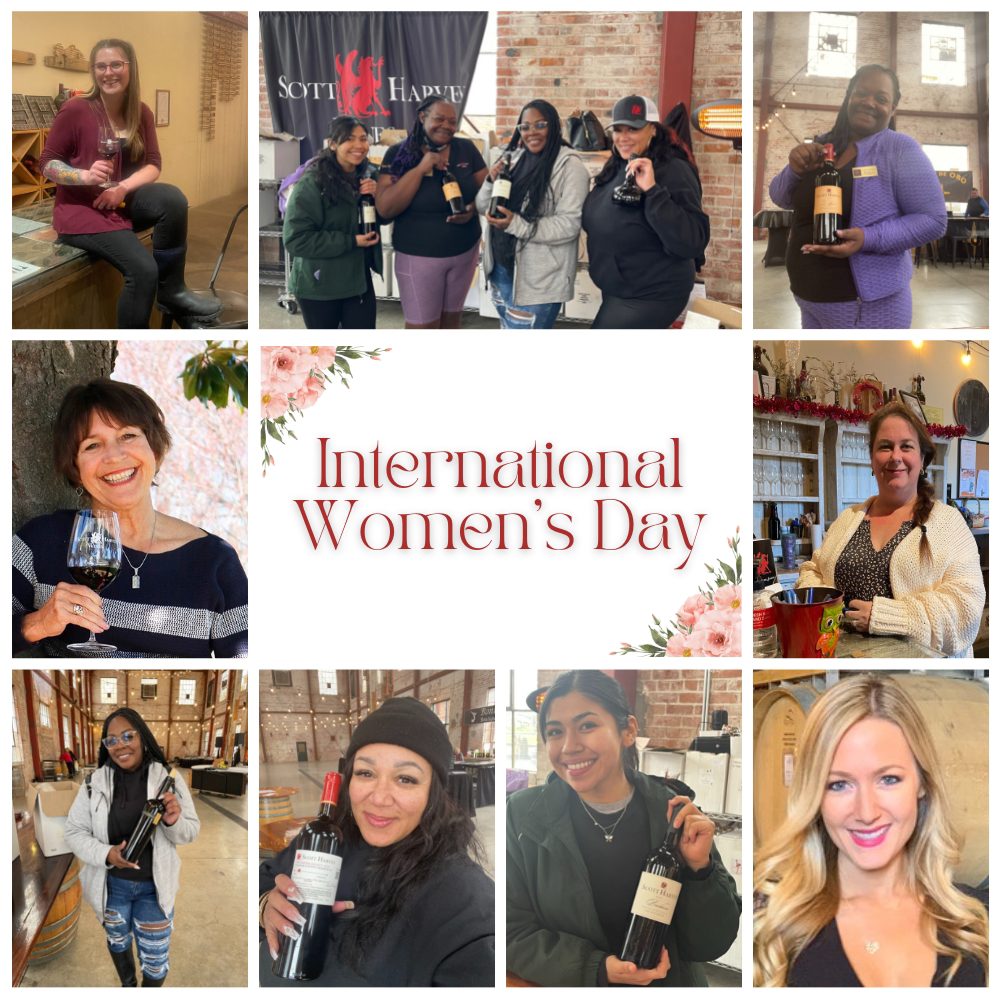 Jana Harvey, along with her husband Scott, has been a critical partner in the development and success of Scott Harvey Wines, one of the best wineries in Amador County, California. Jana's vital role as President of this award-winning winery is clearly visible in the operations, presentation, and even development of an entire Scott Harvey wine portfolio category.
Recognizing Jana's and all the female staff members' roles in the success and history of Scott Harvey Wines is highlighted during March, Women's Role in History Month, particularly on March 8, International Woman's Day.
Through a U.S. Presidential Proclamation of 1998, March was officially designated as Women's Role in History Month. And International Women's Day has been celebrated since the passing of an official Congressional Act in 1990.
How Does Scott Harvey Wines Celebrate Women's History Month?
With Jana Harvey at the helm, and so many female department heads and staff leaders in the company, it's no surprise that Scott Harvey Wines pays more than token attention to Women's History Month.
Tickle Me Pink Donations to the SheJumps Organization
This month, Scott Harvey Wines will donate 8% of their case sales totals of their popular 2021 Tickle me Pink, a light, refreshing blend from the Jana Collection to the SheJumps Organization.
SheJumps is an organization that supports girls from 6 through 18 years of age to become active in outdoor activities. The group's mission is to help young women take risks outdoors to break through various personal fears and barriers and build confidence to reach their full potential.
Supporting the Girl Scouts Cookie Sales
Women's History Month coincides with the annual Girl Scout Cookie Campaign. To support their Local Girl Scout Troop 2063, on Saturday, March 4, Scott Harvey Wines invited the Scouts to sell their delicious cookies while adult attendees participated in a special wine pairing session at the winery.
As a result of this activity, the pairing experts created a Cookie and Wine Tasting Chart, pairing each of the delicious Girl Scout cookies with a specific choice of Scott Harvey Wines:
Here are the results:
Peanut Butter Patties®, Tagalogs® with Forté Port
Caramel DeLites®, Samoas® with Mountain Selection Best Zinfandel
Girl Scout S'Mores® with Mountain Selection Barbara red wine
Trefoils® Shortbread with Jana Riesling
Raspberry Rally® with Mountain Selection Syrah
Thin Mints® with Mountain Selection Zinfandel
Do-si-dos® Peanut Butter Sandwich with Jana Brut Sparkling Wine
Caramel Chocolate Chip with Jana Cathedral Cabernet Sauvignon
Adventurefuls™ with Tickle Me Pink Rosé
Lemon-Ups® with Jana Cabernet Blanc
Toast-Yay™ with Jana Brut Sparkling
Toffee-tastic® with One Last Kiss White Blend
Try Scott Harvey Wines
Whether you happen to be pairing the right wine with your Girl Scout Cookies or anything else to make for a pleasing, tasteful experience, try the versatile female-friendly wines at Scott Harvey Wines of Amador County, California.
Please drop by for a Wine Tasting at their Winery and Tasting Room in Plymouth, California, to enjoy the best Zinfandel Wine, delicious Scott Harvey Barbera Red Wine, and the many other high-quality varietals and blends the winery offers.
Joining the Scott Harvey Griffin Society Wine Club offers many benefits, including exclusive access to their crowd-pleasing, handcrafted wines. Members enjoy a 25% discount on the various Barbera red wines, the best Zinfandel wines, and a comprehensive menu of other artisan offerings.
Griffin Club members also enjoy complimentary tastings for four plus invitations to Scott Harvey Wines and their excellent selections of high-end Barbera red wines and some of the best Zinfandel wines. Visit the Scott Harvey Wines website to learn more.