February 3, 2023 | Scott & Jana Harvey
Romantic Wine Pairings for Valentine's Day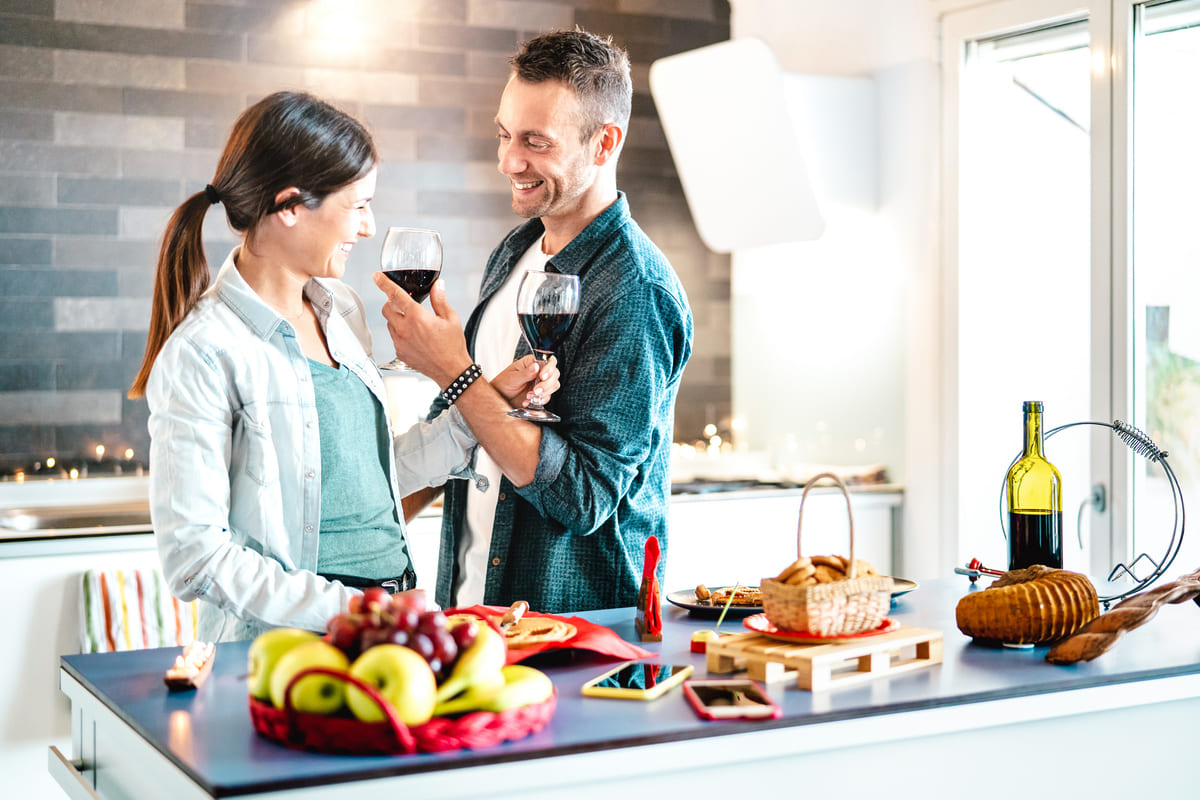 As another Valentine's Day approaches, imagine a romantic private dinner for two. Perhaps your shared "favorite" dish is in order. Or maybe a "never-before-tried" recipe might boost your relationship to a new level, adding a bit of drama and mystery to the occasion.
Whatever the food choice, a properly paired wine is bound to accentuate the experience by enhancing the flavors of your carefully prepared feast.
The lingering question is always: "What wine will pair best with the food I am preparing?"
Find the Right Combination
Why is pairing food and wine correctly important? The flavors and textures of food and wine interact with each other. As a result, a proper wine pairing should always complement the food's flavor and never overpower it. When the pairing combination balance is correct, the dining experience will be more enjoyable.
So, the host's first decision, generally, is "what food should I serve?" Only then do you decide which wine is best.
Food and Wine Pairings That Can Work
The following are some suggested food and wine pairings intended to illustrate combinations compatible in flavor intensity. For Scott Harvey Wine fans, you can match some of their excellent handcrafted wines with some of these recipes.
To illustrate, here are some complementary food and wine combinations to consider for Valentine's Day, beginning with lighter flavors and textures and moving on to bolder, more intensely textured food and wine.
Lamb Chops and Scott Harvey 2020 Winemaker's Reserve Zinfandel, Amador County
A medium-bodied red wine like Scott Harvey's Zinfandel pairs well with the subtle flavors of lamb. A bolder red, like Cabernet Sauvignon, would tend to overpower the mild-flavored lamb. Select Loin chops, as these tend to be more tender than Blade chops.
Roast Duck and Pinot Noir
Roast Duck is an excellent Valentine's Day choice, preferably slow-roasted on a rotisserie, served with potatoes and peas, and paired with a high-quality Pinot Noir. The wine's fruity cherry, citrus, and currant flavors blend nicely with the food.
Beef Tenderloin and Scott Harvey's 2019 Mountain Selection Syrah
A beautifully prepared sliced beef tenderloin, perhaps topped with your favorite mildly seasoned sauce, is best complemented by an elegant 92-Point Scott Harvey Syrah. Add traditional potato and vegetable sides, or be creative with your ideas.
Coq au Vin with a 2018 Jana Winery Cathedral Cabernet Sauvignon
If you haven't served this before, presenting a classic Coq au Vin with a delightful Jana Winery Cabernet Sauvignon can inspire the ultimate Valentine's Day response. This French-inspired dish of chicken cooked in red wine may seem contradictory to the "white meat-white wine" mantra. However, the red wine used in the cooking process raises the richness level of the chicken to a level that only a bolder red can match.
S'Mores and a Glass of Port
Round out your excellent Valentine's Day dinner with your version of the classic S'Mores, the famous graham cracker, chocolate, and marshmallow mixture that no human can reject. Round out your experience with a high-quality Port.
Come to Amador County for Scott Harvey Wines' Best Wine Tasting
This year, try something different. Head to Amador County to visit Scott Harvey Wines and sample expertly handcrafted wine from their award-winning winery.
Considered among the best Amador County wineries built upon Scott Harvey's longstanding winemaking experience, Scott Harvey Wine offers the best wine-tasting experience anywhere.
Many guests opt for membership in this boutique winery's Griffin Society Club, enjoying the excellent wines, special offers, priority excursions and gatherings, and complementary best wine tastings throughout the year.
Visit the wine experts at Scott Harvey Wines in Amador County and learn more about becoming a Griffin Society Wine Club Member.