February 5, 2021 | Scott & Jana Harvey
Wine and Chocolate for Valentine's Day - the perfect pairing
Chocoate and wine don't really share much of the same "terroir".
Most cacao trees are grown in West Africa, Asia, and South America. Most South American cacao is grown in Brazil and Ecuador, not wine producing countries like Argentina and Chile. That's because cacao trees grow best in heat and humidity. Vines, on the other hand, do not.
Think wine goes with just any chocolate? Think again! The richness, sweetness, and center palate of any type of chocolate pairs best with wines with equal richness. They also pair best with wines that have some perceived sweetness, either from residual sugar or alcohol, and a structured tannic center and finish to help draw out the extractive nature of both the chocolate and the wine.
With that, we've broken down the three most popular types of chocolate and paired them with the perfect Scott Harvey wine for you to enjoy year-round. Whether you use this for a virtual wine and chocolate tasting, a girl's night, dinner party, or date night, these pairings won't disappoint!
White Chocolate & Tickle Me Pink Rose

It's no secret white chocolate is sweeter than dark, and a great rule of thumb is the sweeter the chocolate, the sweeter the wine.
White chocolate isn't technically "true" chocolate because it doesn't contain cacao (the brown part with all the flavanols)
Since white chocolate is delicate enough to match with white wines, our sexy, sassy Tickle Me Pink delivers flavors of peaches and cream with floral notes of rose and a touch of spritz. Sparkling wines make the pairing have extra creaminess.

Milk Chocolate & Forte Port-style Wine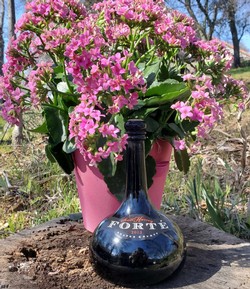 Milk chocolate requires something a touch heavier, and our Forté Port-style wine is the ticket. Flavors of candied red fruits, raspberry, and cranberry melt into flavors of red licorice and chocolate, while the soft tannins flow into a long, sweet plum finish. This hint of sweetness coupled with earthy undertones rounds out the chocolate beautifully.
While our Port is a touch sweet, it won't overwhelm the palate with too much sugar, meaning it can also pair perfectly with fudge and chocolate chip cookies. This wine is complex enough to make the tasting experience intriguing, but won't clash with or overpower it.
Dark Chocolate & Just One Last Kiss Red Blend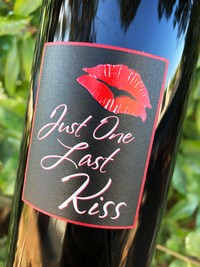 Last but not least, bold and savory dark chocolate is the perfect excuse to explore a dryer wine. The polyphenols in dark chocolate mirror those in wine which can give both a somewhat bitter taste. It's also the part of the chocolate that gives you all the health benefits.The bitterness in dark chocolate is what you want to balance out with a properly selected wine pairing.
Our first recommendation is the Just One Last Kiss Red Blend, which has 11% of our Forte Port-style wine blended in to add to the complexity of this pairing. The base of this fruit-forward red blend is Zinfandel, while the Forte laces through the wine to make up the full-bodied finish. Made with a mouthwatering balance, the wine is full of spicy cloves and blackberry fruit.
Because dark chocolate is such a show-stopper, our pairings don't end there! Our Jana Cabernet Sauvignon hails from three vineyards all very close together off of the Silverado Trail in Napa Valley. This wine was aged for 21 months in French Oak creating a flavorful experience with well-rounded tannins, structure, and aromas. This dark chocolate works with this wine because it mellows the tannins, but also has enough fruit and structure to withstand the boldness of the chocolate. This is the ultimate classic pairing!
Finally, if you're feeling "zin-ful", our InZinerator Zinfandel - which has 9% of our Forte included - is also a wonderful option because it's full of bold black cherry flavors. This wine is a lone warrior in the world of Zins, and Oak aging contributes to its rounded complexity with just a hint of sweetness.
No matter your chocolate preference, we have a wine for every type and every occasion!