July 29, 2022 | Scott & Jana Harvey
Wine Cocktails in Summer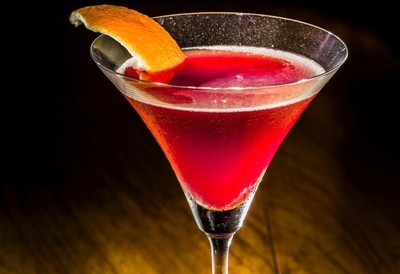 Whether in sports or business, great teams consist of a carefully selected group of individuals whose diverse talents complement each other, creating a successful organization that regularly achieves its goals.
At Scott Harvey Wines, the entire staff focuses on creating better customer experiences, whether those clients are their close friends and Members of the Griffin Society Wine Club or welcome visitors learning about the winery for the first time.
One of the valued employees of Scott Harvey Wines is Catie Jolicoeur. Her extensive mixology experience has led to creating some delightfully tasty wine cocktails that mix beautifully with certain Scott Harvey wines.
Join Catie Saturday August 20th, 2022 from 5pm – 7pm at their Sutter Creek Tasting Room for a fun filled Wine Cocktail Event.
Catie's Mixology Experience
Catie Jolicoeur began bartending when she turned 21, although she had been studying the craft well before then. She even recalls playing a bartending game on her iPod Touch as early as the 8th grade, practicing her timing for pouring shots. From this, she decided she had a real knack for mixing drinks and bartending.
Her first jobs were at catering functions in Los Angeles, bartending events whenever she was needed.
Catie later moved back to her native Bay Area and started working at a local nightclub serving drinks. As much as she enjoyed the fast pace of bartending, she really wanted to focus more on mixology and creating unique and exciting beverages. Soon she was offered the opportunity to step up at the nightclub location to expand into the private event field. In this position, Catie started creating menus while working directly with clients to create fun, themed drinks for special occasions.
One of her greatest joys is when a customer takes their first sip of a cocktail they're never tried before, and their eyes light up with delight. According to Catie, "there's nothing like the first sip of an amazing drink!"
Here are some great cocktail ideas that Catie has adapted to incorporate some of the Scott Harvey wines:
French 76 Cocktail
Adapted from one of the Zestful Kitchen "healthy-ish cooking" recipes, the French 76 Cocktail features the following ingredients for eight servings:
- 1 ½ Cups of Vodka
- 2 Lemon halves
- ½ Cup Simple syrup (sugar or honey with water)
- Jana Blanc de Blanc Wine, a sparkling white wine from Scott Harvey Wines
- Maraschino cherries for garnish
- Angostura bitters (optional)
Preparation
Creating the Lemon Simple Syrup
Catie recommends making the syrup well in advance to cook, then cool, and hold in a refrigerator until it is time to use.
Use a lemon's "spent" halves to infuse the flavor into the simple syrup.
Simmer the lemon halves with the sugar or honey plus water for only a couple of minutes.
Remove the mixture from the heat, and let the lemons steep in the Syrup.
Chill the Ingredients
Since the drink should not be shaken with ice before assembly, all ingredients, including the Syrup, vodka, and Jana Blanc De Blanc, should be chilled first. Hold everything in the refrigerator until the time the drinks be offered.
Pour and Serve
Pour 3 ounces (6 tablespoons) of the vodka mixture into each champagne flute. Top with 2–3 ounces of Jana Blanc De Blanc Sparkling Wine.
This cocktail should not be shaken to chill, so all components must be well-cooled before assembling. Catie recommends making the simple syrup ahead of time and storing it in the refrigerator until well-chilled. Likewise, chill the lemon juice, vodka, and Jana Blanc De Blanc sparkling wine until ready to mix.
New York Sour
Another pleasing party option that Catie adapted for the wine-loving crowd is the New York Sour. On its most basic level, the New York Sour is a whiskey sour with a float of one of the best Zinfandel wines, Scott Harvey Zinfandel, to finish to balance the slightly sweet whiskey sour base and add a greater depth of flavor.
The ingredients for this refreshing drink are:
2 oz. Whiskey
1 oz. Fresh lemon juice
¾ oz. Pure maple syrup (or simple syrup)
1 oz. Egg white (fresh or pasteurized from a jug if you prefer)
½ oz. Scott Harvey Zinfandel, one of the best Zinfandel wines available
Preparation
Dry shake together, without ice, the whiskey, lemon juice, and syrup
Add ice to the shaker, and shake the mixture to chill
Pour and Serve
Pour the mixture over ice into each rocks glass
Add a splash of Scott Harvey Zinfandel over the top, creating three stunning layers and a flavorful, "killer" cocktail.
Following the First World War, Ruby Port became popular with the British and was strongly associated with the typical street-corner pub. The Port was often the basis for a longer drink, "Port and Lemon."
Catie has fashioned a modern version of the Port and Lemon called Port Lemonade which adds a shot of Scott Harvey's Forte Port-style wine poured over ice, let down with fizzy lemonade, and served with a slice of lemon.
Preparation, Pour and Serve
Purchase or create your favorite lemonade from scratch.
Chill the lemonade and pour it into long drink glasses.
Add 2014 Scott Harvey Forte Port-style Wine to taste.
Visit the Scott Harvey Wines
Scott Harvey Wines, located in Amador County wine country, offers Tasting Room experiences in three locations plus professionally curated virtual wine tastings.
The three Tasting Rooms are at:
Shenandoah Tasting Room in nearby Plymouth, CA
Sutter Creek Tasting Room in Sutter Creek, CA
Old Sugar Mill Tasting Room in Clarksburg, CA
You may make reservations for your future Wine Tasting Experiences by visiting the Scott Harvey Wines website.