May 23, 2019 | Travel, Wine | Scott & Jana Harvey
Top 5 Things to Do in Amador County from a Local
Are you in need of a vacation? Or, a "staycation" for those that are local? For some people, Amador County would be considered "off the beaten path". While many don't know the extensive and fascinating history behind the county, for us, it's home. In the time we've had the privilege of living in Amador we've stumbled across many things we love to enjoy as a couple, or with friends and family when they visit. With that, we've put together our top five favorite Amador County hidden gems we hope you can someday enjoy.

1. The Amador City Loop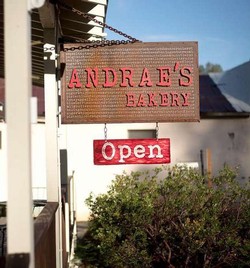 We begin our day in the city of Amador where we love starting our day at Andrae's Bakery for coffee and a sweet or savory breakfast snack. Once we have our coffee fix, we venture up the main road along the creek for a pleasant walk along the brook. After our stroll, we return downtown via Stringbean Alley which is a comfortable, flat concrete walking path. On your way back into the main part of town, you pass the Sutter Creek Gold Mine which is a fascinating piece of history.




2. Volcano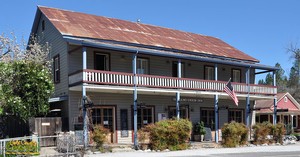 You read that right - Volcano! But, it's not an active one, or even a volcano for that matter. Volcano is actually a town in Amador County. Settled in 1849, the town is named for its setting in a bowl-shaped valley which early miners thought was caused by a volcano. The early morning fog rising from the valley floor only reinforced that belief. If you take a stroll around town, you'll feel as though you've transported into a different era. If you visit the old grocery store, you'll find items that you haven't seen in years, if ever. There's also a charming community theater that was established in 1854 and is continued through the efforts of the Volcano Theater Company. Watching a play at the 50-seat Cobblestone theater is an absolute treat. Finally, you can curb your appetite with a savory lunch or dinner at the Union Inn + Pub.
3. Black Chasm Cavern
This is a place we always love to take new visitors. While Black Chasm Cavern was likely known by the local Miwok people who inhabited this area long before the Gold Rush, the first documented exploration of these caverns occurred in 1854 when a group of explorers braved the unknown to discover the phenomenal beauty that exists below the surface. Simple tours were held at the Black Chasm in those early days, barely penetrating the cavern system that we know today. The tours we venture on nowadays are always interesting and entertaining, and usually given by a member of the family that owns it. We find it fun to use your imagination with the shapes of the stalagmites and stalactites, while in the main part of the cavern opens up for a splendid experience overall.
4. Hikes at Carson Pass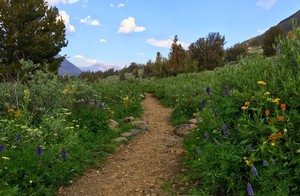 Carson Pass is a mountain pass on the crest of the central Sierra Nevada in the El Dorado National Forest. The historic pass was a point on the Carson Trail during the Gold Rush and was used for American Civil War shipping to California until the completion of the First Transcontinental Railroad. In addition to the extensive history, the hikes at Carson Pass boast some of the most gorgeous wildflowers we've seen in California. These trails are best around mid-summer after the snow melts, and this year should be even more beautiful with all of the rain we had over the winter! Carson Pass is a great place to partake in a variety of activities, from day hikes and backpacking to practicing your photography skills.
5. Lake Tabeaud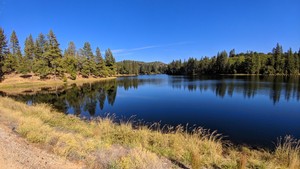 We don't see a lot of water in Amador County except for the many creeks, which is why it's such a pleasure to walk around Lake Tabeaud. This lake is a great place for walkers, joggers, canoers, kayakers, and those who like to fish. This setting is also an ideal quiet place for picnicking and bird-watching. You can enjoy a walk or fishing on the banks in this peaceful setting with shade from the surrounding oaks. While there are no motor boats, swimming, or overnight camping allowed, these trails are open year-round. We love to take a walk around this lake in an easy-to-moderate 2.5-mile loop.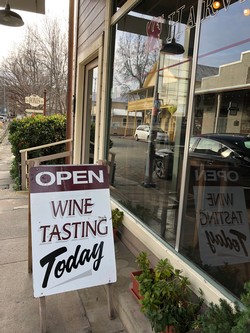 While it's easy to search "top places to visit" online for any given place, we hope this local's perspective of Amador County will take you a bit further out of your comfort zone and into our world here at Scott Harvey Wines.
If you choose to visit or partake in any of these activities, we hope you also find some time to stop by one of our two tasting room locations in either Plymouth or Sutter Creek to round off your Amador County experience!
- Scott & Jana