March 15, 2019 | Jana Harvey
Top 3 St. Patrick's Day Food & Wine Pairings
St. Patrick's Day is a day for feasting. Here are a few of our favorite pairings!

One of Scott's goals has always been to make food-friendly wines that are approachable, easy to drink, and shareable amongst friends. If this doesn't perfectly describe St. Patrick's Day tradition - we don't know what does!
In the spirit of this festive holiday, we've picked three of our beautiful wines to pair with three traditional St. Patrick's Day recipes. Enjoy!
1. Corned Beef and Cabbage
What some may not know about corned beef is that it originated during the days when refrigeration didn't exist, and foods were likely pickled or cured to preserve them. Corned beef, which is traditionally made from the brisket cut, is either pickled or cured using a super-seasoned brine or dry rub, then braised for a few hours to get deliciously tender. Irish American immigrants would splurge on flavorful corned beef which they then accompanied with their famed potatoes and the most affordable vegetable at the time, cabbage. Perhaps the most interesting tidbit about corned beef is that corn, or even peppercorn, isn't actually an ingredient. "Corned" refers to the large salt crystals that were traditionally used during the preservation process.
With that quick history lesson behind us, let's talk wine! There are several different directions one could go, but our top pick is a classic Zinfandel. Zin is ideal for pairing with meat and typically has a variety of spice notes that complement the savory spice of the horseradish leaving your tastebuds watering! Our 2014 Mountain Selection Zinfandel is an extremely food-friendly, medium-bodied Zinfandel with a rich mouthfeel. Its rounded complexity provides a long, lingering finish that will leave you wanting more (more wine, and corned beef)!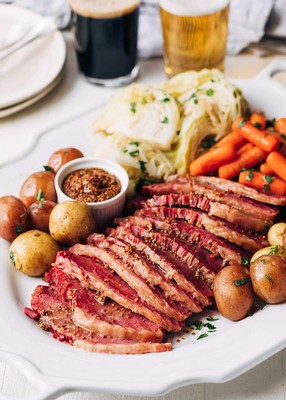 2. Shepherd's Pie
Shepherd's Pie has always been a beloved dish for its comforting, filling, stick-to-your-ribs quality. In the U.S. it's typically known as a rich, beef-based stew with a thick layer of crispy, warm mashed potatoes on top. Back in the 1700s, though, folks in England, Scotland, and Ireland used lamb as the base of the pie. Why? Because Shepherd's look after sheep! Seems too easy, right? Well, that's the story! However, regardless of what protein you pick, you're sure to enjoy this Irish classic.
With a dish such as this, you need a savory wine that's up to snuff. Syrah is a perfect pick because it typically has peppery, meaty characteristics and those naturally savory flavors you want to complement this hearty meal.

Our 2016 J&S Reserve Syrah - which won double gold at the 2019 S.F. Chronicle Wine Competition - is the perfect pairing. Our Syrah is aged in French oak barrels to develop a well-rounded wine with firmly structured tannins. Aromas of raspberry, pepper, clove, cherry, and sweet, light oak introduce bright, spicy flavors with those firm tannins that carry through the long finish.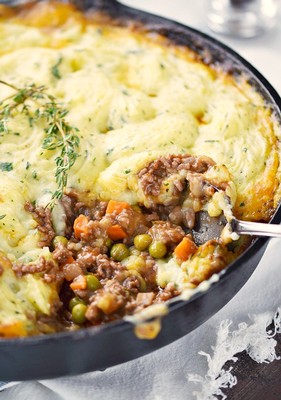 3. Colcannon
All mashed potato fans are bound to love this dish! Colcannon is a traditional Irish and Scottish dish (there's even a song about it!). The two main ingredients are creamy mashed potatoes and either kale or cabbage, which are typically flavored with butter, milk, and mild seasonings. Other popular additions include green onion or cooked, crumbled bacon.

Arguably the most difficult dish of the bunch to pair with wine, colcannon requires a wine with high acid. The decadence of the butter and cream should be balanced with the wine's fresh, crisp acidity to help cut through the creamy weightiness of the dish by refreshing your palate between spoonfuls.

Our 2017 Jana Sauvignon Blanc is the perfect complement to colcannon because of its crisp, vegetal flavor profile. This wine is high in acid and full of herbaceous notes, with hints of lemon blossoms, melon, and flavors of fresh lemon bars and pink grapefruit that explode on the palate. It's a balanced, enjoyable wine that pairs well with food while not overpowering it.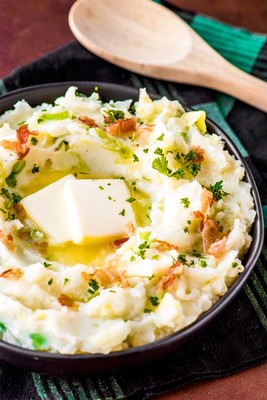 While many people associate traditional Irish foods with beer, wine is an equally acceptable and exciting contender because there are so many fantastic wine pairings to accompany the complexities of each dish. Have a St. Patrick's Day favorite we didn't mention? Check out our family of wines here - we have the perfect food-friendly wine for any Irish recipe!

Happy St. Patrick's Day from the Scott Harvey Wines family to yours - slàinte!