August 18, 2022 | Wine and Food Pairing | Scott & Jana Harvey
Scott Harvey Wines partners with PairAnything and Foodom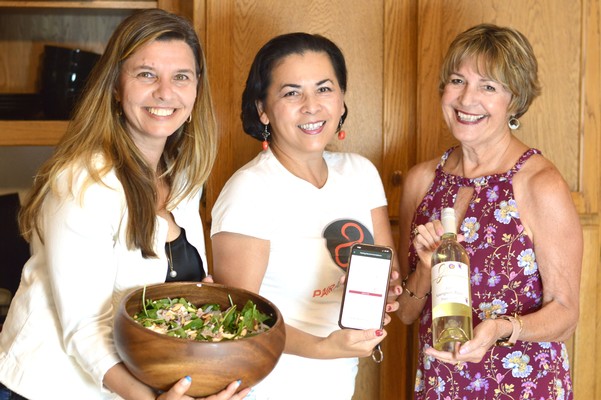 When two or more talent-driven enterprises join forces, the whole often becomes greater than the sum of its parts.
For food and wine enthusiasts (aren't we all?), three California-based organizations, Foodom, PairAnything, and Scott Harvey Wines, are joining forces to offer the finest in-home gastronomic experiences available anywhere.
This initiative is spearheaded by the principals of each of the three organizations: Reneta Jenik of Foodom, Christy Serrato of Pair Anything, Inc., and Jana Harvey, President of Scott Harvey Wines.
A clear and natural synergy is the key to this relationship. As Wine Industry Advisor points out, the linkage among the three brings together food and wine "to elevate dine at home experiences with wine pairings featuring Scott Harvey Wines."
The three California-based female founders are revolutionizing the food and wine industries and passionately collaborating to make the world a tastier place.
How Does the Partnership Work?
Foodom offers a private chef services marketplace for busy families and others. PairAnything uses proprietary technology and expertise to offer the ideal wine to match dishes typical of any cuisine. Scott Harvey Wines, on of the best wineries in Amador County, offers a broad selection of world-class wines to fulfil those pairings.
Foodom's Approach
Foodom of Folsom, California, is a marketplace connecting local affordable private chefs with busy families and people with medical conditions that answers the common question: What's for dinner?
Clients of Foodom book weekly personalized healthy and delicious meals prepared by private chefs in the client's kitchen, starting at $100. Now with their three-way collaboration, Foodom will use the PairAnything wine-pairing software to heighten the dining experience and then incorporate the perfect wine complement from Scott Harvey's extensive wine portfolio.
Clients of Foodom can now create new options to serve weekly meals for busy families and dinner party guests with offerings that undergo a genuinely holistic approach to dining.
Pair Anything Solutions
Davis-based Pair Anything, Inc. is a vanguard food technology company that not only pairs the right foods with the perfect wine solutions but also connects businesses that offer complementary talents and capabilities to provide an even more heightened consumer experience.
PairAnything connects Foodom's menus with Scott Harvey Wines. Together, the three enterprises help diners enjoy the right food and beverage pairings that elevate their enjoyment.
Perfect Pairing with Scott Harvey Wines
Scott Harvey Wines, one of the best wineries in Amador County, is led by Company President Jana Harvey and her husband, Scott Harvey, a veteran California winemaker with four decades of experience in the industry. Scott Harvey Wines, headquartered in Plymouth, CA, has been credited with helping to place Amador County in the same winemaking league as the more developed Napa Valley and Sonoma County regions.
For a delightful, educational, and delicious experience for couples and groups, reserve your place for an Amador County wine tasting at one of the Scott Harvey Wines Tasting Rooms.
To learn about, plan a visit, or shop for wines at Scott Harvey Wines, one of the best wineries in Amador County, visit their website at www.scottharveywines.com
Three steps to book a delicious meal with the perfect wine
Check the Foodom dishes that go with your Scott Harvey wine here https://www.myfoodom.com/food-and-wine-pairing/
Add the dishes to your cart from the mail menu and place your order All Dishes Archives » Foodom (myfoodom.com)
Enjoy the meal and wine, and repeat these steps weekly