June 21, 2022 | Scott & Jana Harvey
Insight into Scott Harvey Wines Labels
Perhaps you have wondered how certain wine labels and names were conceived. While label designs can be artistic and ornate or straightforward and simple, the wine names may represent an event, place, or even an animal. By contrast, some labels are quite simple, only combining the winery name and the varietal with minimal graphics.
Some labels may be a tribute to individuals or family members who impacted the lives of the current owners or vintners or were essential to the early development of the winery.
In Europe, wine labels tend to present only the winery name and location, such as Burgundy or Bordeaux, usually offered with ornate designs like coats-of-arms or other traditional graphics.
Creating More Interesting, Eye-Catching Labels
Wine names and graphics in the United States tend to be either very serious or humorous and whimsical.
Today some wineries are adopting zanier, contemporary names to grab consumer attention and differentiate from older, stodgier labels. This trend is booming as more and more wine lovers realize that wines like Scott Harvey's Just One Last Kiss or inZinerator are equal to or better than many wines with more traditional descriptors.
Whatever the motivation, nearly all wine labels have a story behind them, and Scott Harvey Wines names are no exception.
Origin of Scott Harvey Wine
Before exploring the sources of individual names of the Scott Harvey wines, it is important to mention the creation of the winery itself.
Scott Harvey Wines today is one of the top Amador County wineries offering a broad range of award-winning wines and one of the best wine-tasting experiences available anywhere.
Scott's personal winemaking history dates back to the 1970s, when he received his first training and enology orientation in Germany. By 1976, having returned to the United States, Scott began working at some Amador County, California wineries.
In the 1990s, Scott became a Partner/Winemaker at Folie ȧ Deux (translation: Madness for Two!) of Napa Valley, where his team created several highly rated Cabernet Sauvignons and other varietals.
During that period, Scott also developed the ever-popular Ménage ȧ Trois line that continues to thrive brilliantly today.
It was apparent then, as it is now, that Scott Harvey has a marvelous affinity for interesting, attention-getting names for his wine creations.
The Birth of Scott Harvey Wines!
Throughout those developmental years, Scott Harvey never lost his love and attachment for Amador County. After Folie ȧ Deux sold, Scott and his wife Jana, also an industry veteran, focused their attention and resources on developing their own winery in that region. As a result, Scott Harvey Wine was born.
Naming the Wines, Designing the Labels
While the names of some Scott Harvey Wines are somewhat straightforward, like Scott Harvey Old Vine Zinfandel and Jana American Riesling, many bear an interesting etymology and design history.
Here are the stories behind a few of the wines, ones that are perfect for the best wine tasting you will ever experience: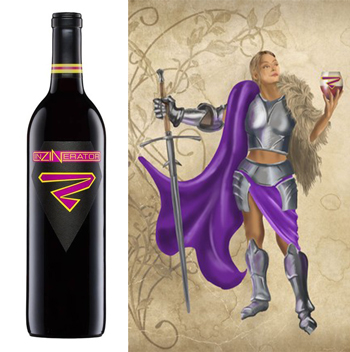 InZinerator, "Our Superhero Label"
After graduating from Cal State Long Beach, Jana's nephew, Michael Harants, designed this label. The mission was to create one that would appeal to consumers in his age group. Since Michael was a video gamer and comic book enthusiast, his design significantly reflected that influence when he proposed his original decidedly "superhero" design.
That graphic has since morphed into a female version for the 2019 InZinerator Femme Knight.
Honoring Jana's Parents
Michael also created noteworthy additions to honor his grandparents (Jana's parents) as part of the Jana Winery line of white wines. You may note that most labels in the Jana line depict a butterfly and a pansy. These heartfelt tributes represent Jana's mother's obsession with butterflies and her father's love for gardening and flowers.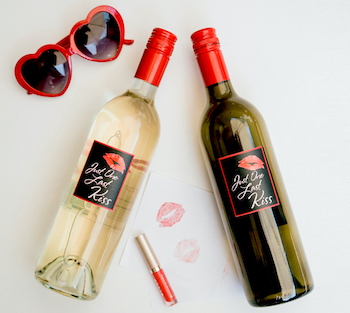 "Just One Last Kiss"
The mission was to create a label for a new white wine blend that would include the word "Kiss." However, since one famous band already had a legal claim to that, another naming quest began.
Friendly back and forth occurred until Jana suggested "One Last Kiss," recalling a song from the musical "Bye, Bye Birdie."
Scott, however, felt "One More Kiss" would be more suitable and less "final" since he did not want to become the seller of what could be the ultimate "break-up" wine.
Later, after a particular female group weekend winery visit broke up following the best wine tasting and tour experiences, each guest was asked to kiss a certain posterboard. These parting kisses inspired adding the "just" to the label name.
Now future releases of this white wine blend will be named "Just One Last Kiss."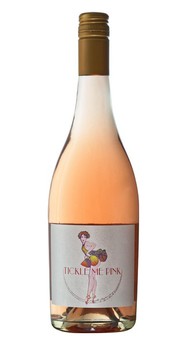 "Tickle Me Pink"
While looking for a catchy name for another Jana Winery wine, a "spritzy" Rosé, Scott received a suggestion, "Tickle Me Pink, from the wife of an early mentor, Dr. Richard Peterson.
But creating the appropriate and appealing label was next.
While on a trip to Sedona, AZ, the Harveys had purchased a painting titled "Miss Dolly" by artist Connie Fisher. Since the artworks's style and color seemed to match the proposed name perfectly, they contacted the artist to secure the rights to use the painting as a basis for the graphics. Ms. Dubose agreed and even added the "Tickle Me Pink" title to the label.
Scott Harvey Label Wines
During Scott's prior career at Folie a Deux, a longtime distributor friend had suggested that he create a wine named "Scott Harvey." Because of this encouragement, Scott subsequently named a group of wines after himself.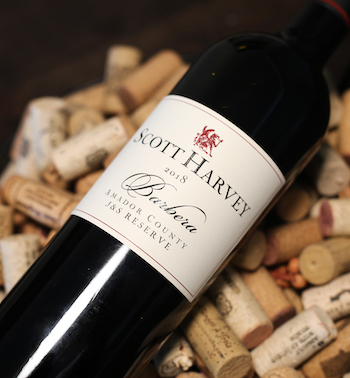 Several of the Scott Harvey Wines bear an interesting logo that features a Griffin, a mythical, historic animal with a lion's body and an eagle's head. This graphic hearkens back to his early wine experience and education in Europe as well as his Scottish heritage.
Notably, Scott Harvey Wines' popular California wine club is named the Griffin Society Wine Club, a California wine club featuring a range of discounts and specific privileges exclusive to Members only.
Scott Harvey Vineyard 1869 Zinfandel, Amador County- Library Collection
While the label and name for this wine are neither whimsical nor clever, the 1869 Zinfandel represents a flavorful, well-structured wine from a still-active 150-year-old vineyard. As one of the best Amador County wineries, Scott Harvey Wines is pleased to present a wine produced from grapevines planted during the earliest days of the California wine industry. Customers may elect from the Scott Harvey Library Collection to enjoy a real "taste" of the region's history.
Overnight Guests at Scott Harvey Wines
For a most delightful visit to the Scott Harvey Winery in Amador County, guests can book an overnight stay at the Vineyard Guest House, situated on the winery property. While there, you will enjoy views of the vineyards and surrounding Shenandoah terrain while relaxing in a fully self-contained two- or three-bedroom private accommodation. The Guesthouse is an ideal wine country solution within walking distance of various Tasting Rooms where you may enjoy the best wine tasting experiences anywhere.
Members of the Griffin Society should book their stays directly with the winery to secure their discount. Email your reservation request to misty@scottharveywines.com for reservations.
Sample and Enjoy a Scott Harvey Wines Best Wine Tastings
Scott Harvey Wines, one of the best Amador County wineries, offers live and virtual wine tasting carefully curated and directed by one of the winery's expert educators. Making your reservations for a future event is easy, simply log onto the Scott Harvey Wines website, click the VISIT Button, and select your choice of one of the three best wine tasting sites anywhere:
Shenandoah Winery Tasting Room in Plymouth
Sutter Creek Tasting Room in Sutter Creek
Old Sugar Mill Tasting Room in Clarksburg (No reservations necessary)
Select an available date and preferred time, number of guests, and make your reservation.
For the best Virtual Wine Tasting experience at your chosen location, send an email and information to info@scottharveywine.com. A Scott Harvey professional will contact you promptly to set up this delightful and educational best wine tasting experience. Or simply reserve your tasting experience online.