September 16, 2022 | Scott & Jana Harvey
Chocolate and Scott Harvey Wine Pairing Guide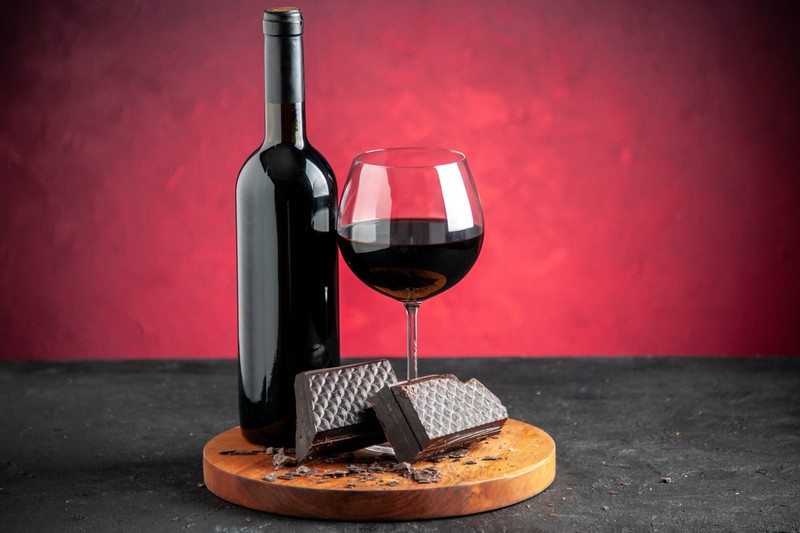 There are no two products more different in their origins yet more delicious together than chocolate and wine. Millions of consumers around the world would gladly support this notion.
Excellent wines originate in Mediterranean-like climates, including numerous areas of California like Napa Valley, Sonoma County, and the rapidly emerging Amador County, where the best Zinfandel wines and other varietals are produced. On the other hand, chocolate comes from the cacao tree, which thrives in hot and humid tropical climates found in West Africa and South America, notably the jungles of Brazil.
Exploring the Wine and Chocolate Connection with Scott Harvey Wines
Recognizing the universal love for the chocolate and wine combination, the Scott Harvey culinary experts set out to discover some heavenly combinations of these universal favorites.
Strawberry Basil Chocolate – Tickle Me Pink Rosé
Pairing: Tangy, sweet strawberry jam excellently merged with light dark chocolate with basil crystals on top that add a pleasant herbal crunch.
Tickle Me Pink Rosé is a nicely balanced, refreshing wine that offers strawberry, bubblegum, ripe mango, and papaya suggestions. The carbonation is excellent for summertime activity and works well with the chocolate accompaniment.
85% Dark Chocolate & Cacao Nib ­- Scott Harvey Barbera
Pairing: This dark milk chocolate consisting largely of cream provides the milk fat content that makes the right wine a great accompaniment.
The Scott Harvey Barbera wines are made from grapes grown at higher elevations in Amador County, California, mountainous terrain. This wine accompaniment features blackberry, currents, and spicy pumpkin notes, offering a rich, full, and flavorful finish.
White Chocolate – Tickle me Pink Rosé
Pairing: Although white chocolate is not technically real chocolate because it lacks the cacao component, it is delicious and imparts many of the desirable characteristics of regular chocolate.
Tickle Me Pink Rosé offers fruity flavors and floral notes to deliver a pleasing combination.
Dark Chocolate – Zinfandel
Pairing: The polyphenols in dark chocolate mirror those in wine and give both a somewhat bitter taste. It's also the part of the chocolate that gives you all the health benefits! The bitterness in dark chocolate is what we will want to balance out with a properly selected wine pairing.
Scott Harvey's Zinfandel offers great intensity to stand up to and complement the richest dark chocolate, a match made in Heaven!
Visit Scott Harvey Wines
Make your reservations to visit the Scott Harvey Amador County Tasting Room in Plymouth, CA, or the other Sutter Creek or Clarksburg tasting room sites. The Amador County Tasting Room is open seven days per week from 11 AM to 5 PM.
Besides enjoying Scott Harvey's world-class wines in their Tasting Room along with delightfully paired food items, you may also purchase wines online from the winery's wide selection of Scott Harvey and Jana Wines. The options will include a range of the best Zinfandel wines available anywhere.
Besides making your reservations online, you may also phone the Scott Harvey Amador County Tasting Room to discuss your reservations. The phone number is (209)-245-3670.