Winter Berry Forest Cake in a Cup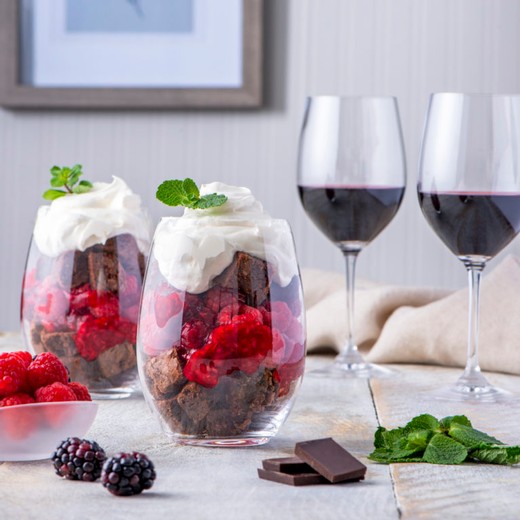 Recipe Date:
March 16, 2022
Measurements:
Imperial (US)
Ingredients
2 eggs room temperature
2 tsps vanilla
1/2 cup butter
1 1/4 cups cup brown sugar
1 3/4 cups cup all-purpose flour
2/3 cup dark cocoa powder unsweetened (70%)
1 tsp baking powder
1 tsp baking soda
1/2 tsp tsp salt
1/2 cup chocolate chips
1 cup blackberries
1 cup raspberries
1/4 cup water
1 tbsp cornstarch
1 tbsp lemon juice
2 tbsps 2 Tbsp sugar
Canned whipped cream
1/4 cup Mint Leaves
Directions
Pre Heat oven to 350 F degrees or 180 C.
#1-10 = Chocolate muffin mix
#11-16= Berry Mixture
#17-18= Garnish
Chocolate muffin mix: In a bowl or stand mixer, add eggs, butter, vanilla, and sugar. Whip on high to medium speed until light and fluffy. About 5 to 10 min depending on speed and mixer.
In a separate bowl combine remaining ingredients and mix till all combined,
Pour flour, cocoa mixture into the whipped mixture and fold together with a spatula. By folding it you keep more air in the batter for a fluffy finish.
Lightly oil a 12-muffin tin. Evenly distribute batter into muffin tin and bake for 15 to 20 min or until a toothpick inserted in the center comes out dry.
Remove from heat and let cool.
Berry Mixture: In a medium saucepan (off heat) add water, ½ cup blackberries, and ½ cup raspberries. Whisk in cornstarch, lemon juice, and sugar.
Whisk over medium heat until starts to thicken
Add remaining berries and bring to a light boil for (about 8 minutes)
Add brownie to a small glass or mason jar
Top with berry mixture
Top with whipped cream & mint