Vegan Stuffed Mushrooms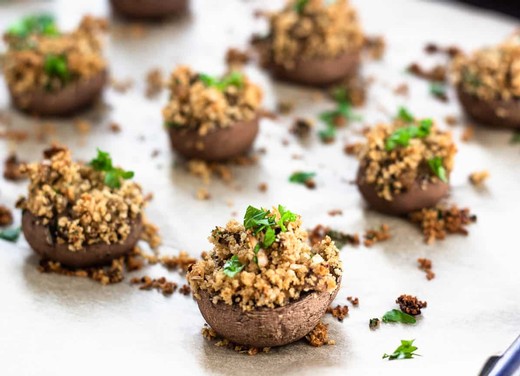 Recipe Date:
February 16, 2022
Measurements:
Imperial (US)
Vegan stuffed mushroom recipe bursting with cooked shallot, fresh parsley, and sun-dried tomato. Perfect as an appetizer, main dish, or holiday treat.
Ingredients
12 medium to large crimini mushrooms (you could also use white mushrooms. I prefer crimini because they're a little more durable. Portobellos would work for a main dish too)
1 tbsp olive oil, plus more to brush the mushrooms
3 shallots, finely diced
6 cloves of garlic, chopped
3 tbsps walnuts, chopped
4 tbsps sun-dried tomatoes, chopped
4 tbsps fresh parsley, chopped
1/2 tsp sea salt, plus more for sprinkling the mushrooms
Pepper, to taste
Directions

Parsley-lemon dressing:
1/3 cup finely chopped parsley
3 cloves of garlic, diced
The zest of a lemon
1 tablespoon red wine vinegar
1/3 cup olive oil
Salt and pepper, to taste
Cooking Direcetions:
To make dressing, combine all ingredients in a small food processor and blend until smooth. Taste and adjust the level of acidity with red wine vinegar, saltiness with salt, and lemon with additional zest. Set aside to allow flavors to meld.Preheat the oven to 350°F.Remove mushroom stems by hand or with a small knife. Dice stems finely and set aside in a separate bowl.Lightly spray baking dish with olive oil. Brush the mushroom caps on both sides with olive oil, sprinkle the inside (gill side) with salt and pepper, and place them gill side up in the baking dish.Heat a medium frying pan over medium heat and add the 1 tablespoon of oil. Once warm, add the diced shallots. Lightly fry until transparent. Add diced garlic. Lightly fry until fragrant. Add the chopped mushroom stems. Lightly fry until browned, stirring occasionally. Remove the pan from heat.Add walnuts, parsley, and sun-dried tomatoes to mix. Stir until evenly dispersed.Fill each mushroom cap with stuffing and bake for 15 – 20 minutes, until the mushrooms turn brown and soft. Once ready, remove from oven.To serve, drizzle lemon parsley dressing on the the mushrooms.Best when fresh. Can store in refrigerator up to 2 days.