Vegan Lemon Cake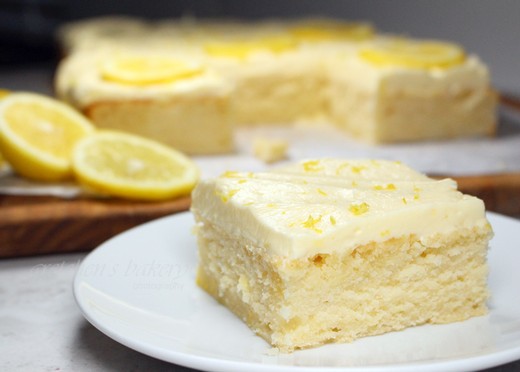 Recipe Date:
February 16, 2022
Measurements:
Imperial (US)
Ingredients
2 1/2 cups all-purpose flour
1 1/2 cups white sugar
1 1/2 tsps baking soda
3/4 tsp Salt
1 1/2 cups unsweetened almond milk
1/2 cup olive oil
1 tbsp apple cider vinegar
1 tsp vanilla extract
3 tsps lemon flavor
2 tbsps fresh grated lemon zest
Directions
Frosting:
4 1/2 cups powdered sugar
1/2 cup vegan butter
3 1/2 tablespoons fresh lemon juice
2 teaspoons lemon flavor
1. Preheat the oven to 350°F .
2. Spray two 8 inch cake pans with non-stick spray. Wrap your soaked cake strips around the outside perimeter of the pans. Line the bottoms with parchment paper (I cut circles to roughly fit the shape of the cake pans). Set aside.
3. Add the flour, sugar, baking soda, and salt into a mixing bowl and gently combine. Then add the wet ingredients – almond milk, olive oil, apple cider vinegar, vanilla extract, lemon flavor, and lemon zest. Whisk with a hand whisk briefly until mostly combined. Tiny lumps are normal and to be expected.
4. Divide the batter between the two pans, place into the oven, and bake for 30 minutes, until a toothpick or knife inserted into the center of the cake comes out clean.
5. Remove the cakes from the oven and let cool in their pans on a wire rack for about 10 minutes. Slide a dull knife around the perimeter and gently flip over cake pans to remove. Flip over the cake again so it is right side up and let it continue cooling on the wire racks for 30-60 minutes. The cakes need to be completely cool before icing.
6. To make your frosting, add the powdered sugar, vegan butter, lemon juice, and lemon flavor into the bowl of an electric mixer. Starting off slowly, gradually increase your mixer's speed until frosting is thick and smooth. If your frosting is too thin, add more powdered sugar. If it's too thick, add a drop of lemon juice to thin until you get the right consistency.
To frost the cakes, put a small spoonful of frosting on the bottom of your cake stand so the bottom layer of cake sticks while frosting. If your bottom layer cake is domed, use a serrated knife to gently flatten out the cake before frosting. Cover the bottom layer of cake in frosting. Add the next layer of cake and cover in frosting, making sure to carefully close any gaps between the layers.
When completely frosted, top with additional freshly grated lemon zest.
To store, keep covered at room temperature. Frosting will begin to slightly harden after a few days, so best when fresh and within 1-2 days of baking.