Turkey Lasagna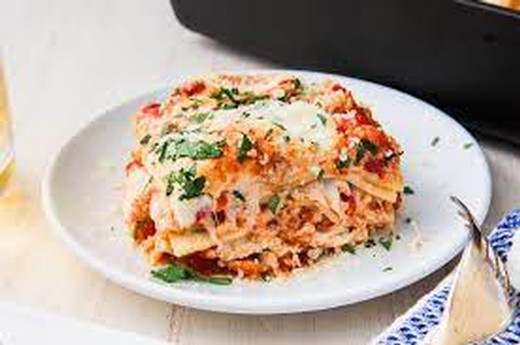 Recipe Date:
January 21, 2022
Measurements:
Imperial (US)
Ingredients
2 tbsps Olive Oil
1 cup Chopped Yellow Onion
4 tbsps garlic clove, minced
1 1/2 lbs Sweet Italian Turkey Sausage ( Remove casings)
6 ozs Tomato Paste
1/4 cup Chopped flat-leaf parsley, divided
1 cup Chopped fresh basil leaves
2 tsps Kosher Salt
3/4 tsp Freshly Ground Black Pepper
1/2 lb Lasagna Noodles
15 ozs Ricotta Cheese
4 ozs Creamy Goat Cheese
1 cup Grated Parmesan, divided, half for sprinkling
1 Large Egg, lightly beaten
1 lb Fresh Mozzarella, thinly sliced
Directions
Preheat the oven to 400° F. Heat the olive oil in a large skillet. Add the onion and cook for 5 min. over medium-low heat, until translucent. Add the garlic and cook for 1 more minute. Add the sausage and cook over medium-low heat, breaking it up with a fork, for 8 to 10 minutes, or until no longer pink. Add the tomatoes, tomato paste, 2 Tbs. of the parsley, the basil, 1 1/2 tsp. of the salt, and 1/2 tsp. pepper. Simmer, uncovered, over medium-low heat, for 15-20 min., until thickened. Meanwhile, fill a large bowl with the hottest tap water. Add the noodles and allow them to sit in the water for 20 mins. Drain. In a medium bowl, combine the ricotta, goat cheese, 1 cup of the parmesan, the egg, the remaining 2 Tbs. of parsley, remaining 1/2 tsp. salt, and 1/4 tsp. pepper. Set aside. Ladle 1/3 of the sauce into a lasagna pan, spreading the sauce over the bottom of the dish. Then add the layers as follows: half the pasta, half the mozzarella, half the ricotta, and one 1/3 of the sauce. Add the rest of the pasta, mozzarella, ricotta, and finally sauce. Sprinkle with 1/4 cup of parmesan. Bake for 30 minute, until the sauce is bubbling.