Thai Chicken Curry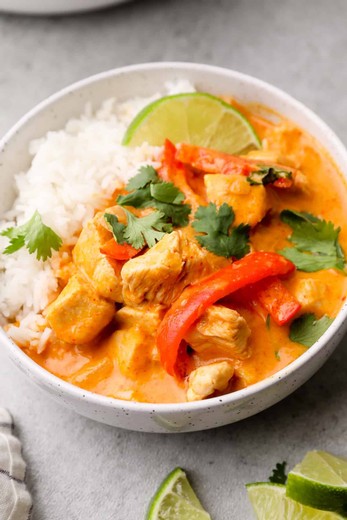 Recipe Date:
March 10, 2022
Measurements:
Imperial (US)
Ingredients
1 tbsp peanut or canola oil
1 large onion, sliced
2 cloves garlic, minced
2 tsps minced fresh ginger
1 tbsp red curry paste
14 ozs light coconut milk
1 cup chicken stock
1 large sweet potato, peeled and cut into cubes
8 ozs green beans
1 lb boneless, skinless chicken breasts, sliced into 1⁄4"-thick pieces
1 Lime ( juice)
1 tbsp fish sauce (optional)
Chopped fresh cilantro or basil, for garnish
Directions
1. Heat the oil in a large saucepan or pot over medium heat.
2. Add the onions, garlic, and ginger and sauté for about 5 minutes, until soft and fragrant.
3. Add the curry paste, cook for a few minutes, then stir in the coconut milk and broth and bring to a simmer.
4. Add the sweet potato and simmer for 10 minutes.
5. Stir in the green beans and chicken and cook for about 5 minutes, until the vegetables are just tender and the chicken is cooked through.
6. Stir in the lime juice and fish sauce, if using. Serve over steamed brown rice, garnished with cilantro or basil, if you like.