Steak Tacos with Cabbage Slaw, Lime Crema & Pickled Red Onions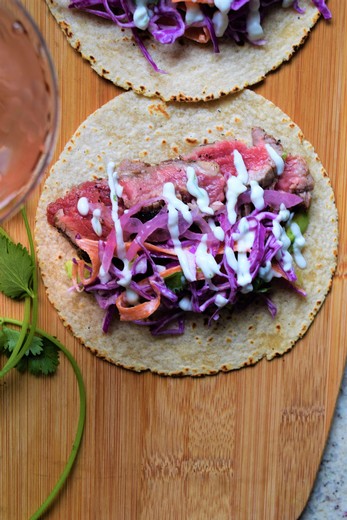 Recipe Date:
March 27, 2019
Measurements:
Imperial (US)
Ingredients
3 tbsps apple cider vinegar
2 tbsps plain Greek yogurt
1 tbsp mayonnaise
1/2 tbsp honey
2 tbsps chopped scallions
Kosher salt & coarse black pepper
1 small head of red cabbage, thinly shredded
1/4 cup chopped fresh cilantro
2 large carrot sticks, peeled into ribbons
1 cup white vinegar
1 tsp sugar
1 small red onion, thinly sliced
1 1/2 lbs flank steak, preferably on the thicker side
2 tbsps neutral oil (such as grapeseed, sunflower, or canola)
1/2 tbsp granulated garlic
1 cup sour cream
Zest and juice of 1/2 lime
12 (6-inch) corn or flour tortillas, lightly charred on the stove
1 ripe avocado, sliced
Directions
Start by making the slaw. In a small bowl, whisk together the vinegar, Greek yogurt, mayonnaise, honey, scallions, and a pinch each of salt and pepper. In a large bowl, add the red cabbage, cilantro, and carrots and pour in the dressing, a few tablespoons at a time, until the slaw is thoroughly coated.
In a small saucepot, whisk together the water, vinegar, sugar, and 1 teaspoon salt over high heat. Place the sliced onions into an airtight jar or container and pour the pickling mixture over top. Allow the onions to come to room temperature and refrigerate for at least thirty minutes or at best, a few hours.
Remove the flank steak from the refrigerator 30 minutes before cooking.
Heat a large cast iron skillet over medium-high heat. Brush both sides of the steak with the neutral oil and sprinkle generously with salt, pepper, and garlic. Place the steak in the hot pan and sear until a crust forms, about 3 to 5 minutes depending on the thickness. Flip the steak and cook on the other side for an additional 2 minutes. Rest the steak on a cutting board for 5 minutes and then thinly slice on an angle against the grain.
While the steak is resting, whisk together the sour cream, lime juice, and zest and season to taste with salt.
To assemble the tacos, top each warm tortilla with even portions of steak, cabbage slaw, pickled red onions, and avocado. Drizzle each taco with the lime crema.