Smoked Pork Tinga Tacos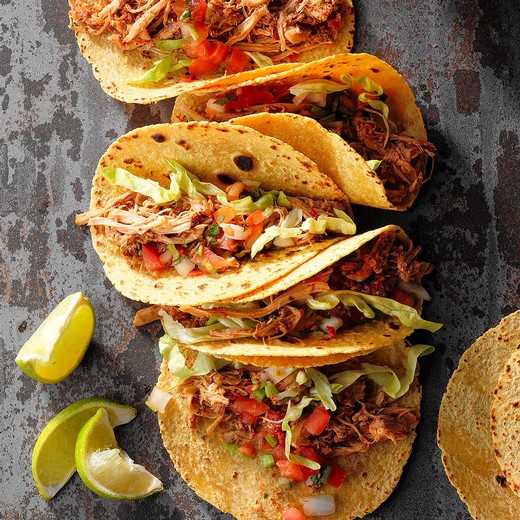 Recipe Date:
January 24, 2022
Measurements:
Imperial (US)
This is a recipe for your slow cooker
Ingredients
1 lb Yukon Gold Potatoes, Cut into 1/2 inch cubes
2 lbs Boneless pork shoulder, cut into 1 inch pieces
1 oz 28 oz Can of crushed tomatoes
4 Canned chipotle chilies in adobo seeded and chopped
4 ozs Fresh Mexican chorizo sausage bulk, or casings removed
1 tbsp Chipotle canning sauce
1 tsp Dried Mexican oregano
3 Garlic Cloves, finely chopped
1 tsp Salt
1 Package warmed corn tortillas
1 cup crumbled Mexican queso fresco or feta
1 tbsp Worcestershire sauce
Directions
Directions:
Spread the potatoes over the bottom of a slow cooker and top with the pork. In a large bowl, mix the tomatoes with the chipotles, canning sauce, Worcestershire, oregano, garlic, and salt. Pour the mixture evenly over the meat and potatoes. Cover and turn the slow cooker on high for 6 hours (the dish can hold the slow-cookers "keep warm" setting for 4 more hours or so). When you are ready to eat, fry the chorizo in a medium skillet until thoroughly done, about 4-5 minutes. Uncover the pork tinga and spoon off any fat that has accumulated on top. Sprinkle on the chorizo, and stir everything together, breaking the pork into smaller pieces. Taste and season with additional salt if it needs it. Serve with the tortilla, crumbled fresh cheese and guacamole.