Scott's Blackberry Pie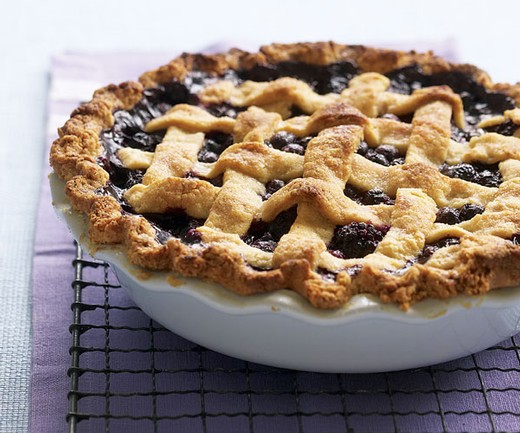 Recipe Date:
January 24, 2022
Measurements:
Imperial (US)
Ingredients
1 1/2 cups Flour
12 tbsps Butter
2 Eggs
1 tsp Baking Powder
5 cups Fresh Blackberries
1/2 cup Lemon Juice
1/2 Zest from half of a Lemon
1 cup Sugar
1/4 cup Flour
1 tsp Corn Starch
1 tsp Cinnamon
Directions
Directions for Crust:
Combine ingredients and split into two balls. 2. roll each out and put one in the bottom of a well greased pie pan. 3. Cover with foil and weight down with pie beads or kidney beans and bake for 15 minutes at 450°. 4. Take out and let cool.
Directions for Pie Filling:
1. Mix blackberries with lemon juice and lemon zest then add sugar, flour and corn starch. Be careful not to over mix because the blackberries will begin to juice up. 2. Put filling in the cooled down pie crust. 3. Add dabs of butter to the top of the filling, and then cover with the top pie crust. 4. sprinkle sugar and cinnamon over the top and cut notches in the top of crust. 5. bake in the oven at 450° F. for 10 minutes. 6. Turn oven down to 350° F. and bake another 35 to 40 minutes or until brown.