Rosemary & Roasted Garlic Beet Hummus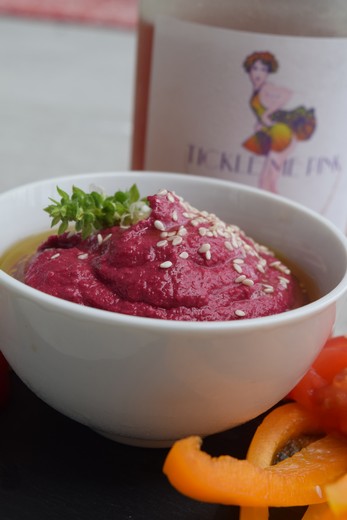 Recipe Date:
March 20, 2019
Measurements:
Imperial (US)
Make this tasty rosemary & roasted garlic beet hummus recipe at home!
Ingredients
1 lb red beets, scrubbed
1 small bunch of fresh rosemary
3 large cloves of roasted garlic
1 tsp ground coriander
2 tsps ground cumin
2 tbsps fresh lemon juice
1/4 cup good quality extra virgin olive oil
6 tbsps tahini
2 tbsps honey
1 A pinch of Kosher salt
Fresh vegetables and warmed pita bread for serving
Directions
Makes about 2 cups
Preheat the oven to 400° F.
Place the beets into a heavy-bottomed, oven-proof pan (like a cast iron) with the rosemary sprigs and cover with water. Bring to a boil, cover, and then place the entire pan into the oven. Cook until the beets are very tender, about 1 1/2 to 2 hours. Remove the beets from the pan and allow them to cool. Slide the skins off and rough chop.
In a food processor, combine the beets, roasted garlic, coriander, cumin, lemon juice, and honey and pulse until blended. With the machine running, drizzle in the olive oil a little bit at a time until the mixture is silky and smooth. Transfer to a bowl, whisk in the tahini, and season to taste with salt. Refrigerate until lightly chilled and serve with the sliced vegetables and pita bread.
Roasted Garlic
1 head garlic
1/2 teaspoon olive oil
Pinch of kosher salt
Preheat the oven to 400°F.
Slice off the very top of the garlic head so that the cloves are exposed. Drizzle the cloves with the oil and sprinkle with the salt. Wrap the entire head in foil and bake until golden and tender, 50 to 55 minutes.
To pop out the cloves, gently squeeze them out of their shells.