Red Wine-Braised Baby Octopus with Black Olives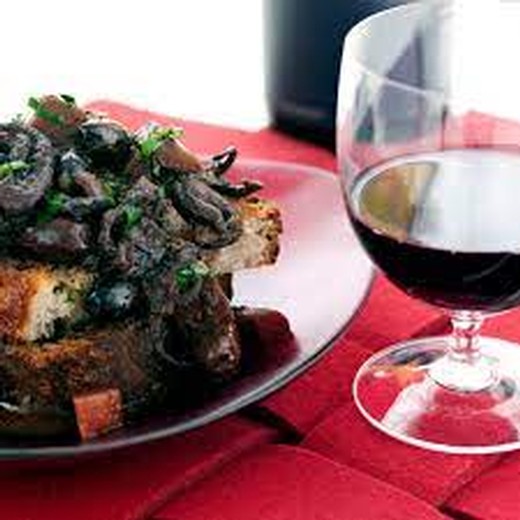 Recipe Date:
March 22, 2022
Measurements:
Imperial (US)
Ingredients
3 tbsps extra-virgin olive oil
1 large onion, cut into 1/2-inch dice
1 large carrot, cut into 1/2-inch dice
2 garlic cloves, minced
2 celery ribs, cut into 1/2-inch dice
1/4 tsp crushed red pepper
1 bay leaf
14 ozs can chopped tomatoes
2 lbs baby octopus—cleaned, heads halved, tentacles quartered
Salt and freshly ground pepper
2 cups dry red wine, such as Syrah
1 cup pitted kalamata olives, rinsed
1/2 cup chopped parsley
6 slices of sourdough bread, toasted
Directions
Step 1
In a medium enameled, cast-iron casserole, heat 2 tablespoons of the oil. Add the onion, carrot, garlic, celery, crushed red pepper and bay leaf and cook over moderately high heat, stirring, until softened, about 8 minutes. Add the tomatoes and their juices and simmer for 2 minutes, until slightly reduced. Remove from the heat.
Step 2
In a large skillet, heat 1 1/2 teaspoons of the oil until shimmering. Add half of the octopus, season with salt and pepper and cook over high heat, stirring, until starting to brown, about 2 minutes. Scrape the octopus into the casserole. Repeat with the remaining 1 1/2 teaspoons of oil and octopus. Add the red wine to the skillet and bring to a boil, scraping up the browned bits on the bottom. Pour the wine into the casserole.
Step 3
Simmer the stew until the octopus is tender, 30 minutes. Add the olives and simmer for 5 minutes longer. Discard the bay leaf. Season the stew with salt and pepper and stir in the parsley. Set the toasts in bowls, top with the stew and serve.