Rabbit in Wine and Garlic Sauce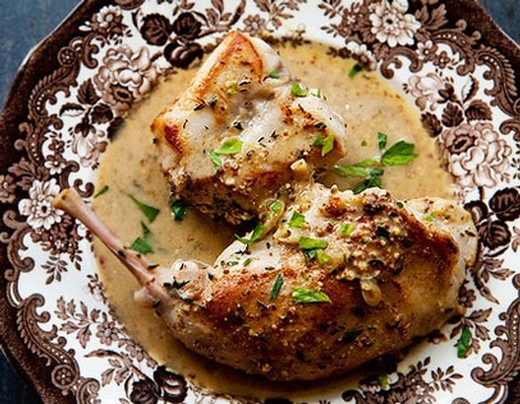 Recipe Date:
March 9, 2022
Measurements:
Imperial (US)
Ingredients
1 tbsp olive oil (or sunflower oil)
1 1/2 rabbit (defrosted and cut up)
3 cloves garlic (chopped)
1 cup dry white wine
1/2 cup chicken stock
1 pinch sea salt
1 Pinch fresh thyme
1 splash of water
Directions
Cut the rabbit down
Using a very sharp knife or a meat cleaver, cut the rabbit in 4 parts: back legs, 2 pieces for the bust and another piece front legs. Then divide the leg pieces in two so that each piece was only one leg.
Pan Sear the Rabbit
Heat a large pan on medium-high heat and add oil to the pan. Add the rabbit pieces and sear them on all sides until it is all well browned (5 minutes per each side). It's important to be patient when coloring the meat - don't turn too often. Season the rabbit with salt and pepper while it's cooking.
Reduce the heat slightly and add chopped garlic to the pan. Brown the garlic while continuing to cook rabbit, about 2-3 minutes. Make sure that the pan is not too hot at this point.
Preheat oven to 350 F.
Make sure that the pan is on medium heat now. Season the rabbit again and deglaze with white wine to get all the caramelized juices from the bottom of the pan. After the wine evaporated, we're left with syrupy substance of the wine. Now add chicken stock.
Put the pan with the rabbit pieces into the preheated oven and roast for about 30 minutes until the internal temperature is about 140 to 145°F.
One thing to keep in mind is that the meat will continue to cook while it is resting, and the internal temperature will reach the desired temperature of about 150°F.
Serve with fresh thyme.
Notes
*The wine garlic sauce should be reduced quite a bit to intensify the flavor. - not too thick, but not too runny.
When cooking, add a little bit of water when cooking, do not add chicken stock - otherwise the stock flavor will be too strong.