Port, Prosciutto and Fig Crostini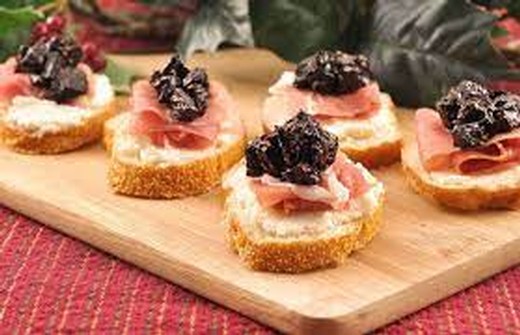 Recipe Date:
March 24, 2022
Measurements:
Imperial (US)
Ingredients
1 cup dried figs, stemmed and chopped
3/4 cup tawny port
12 slices French baguette, 1/4-inch thick
6 tbsps whole milk ricotta
6 slices prosciutto, halved lengthwise
Directions
1. Remove the ricotta from the refrigerator to allow it to come to room temperature.
2. Preheat oven to 325° F.
3. Arrange the baguette slices on a baking sheet and bake just until crisp and lightly toasted, 3 to 4 minutes. Remove from the oven and allow to cool.
4. Place the figs and port in a small saucepan and bring to a slow simmer over medium-low heat.
5. Cook until the figs have absorbed the port and are plump and tender, 10 to 12 minutes. Remove from the heat and allow to cool.
6. Spread 2 teaspoons of ricotta on each crostini, then accordion-fold a half slice of prosciutto on top.
7. Top with a small spoonful of the figs and press down lightly. Arrange on a plate and serve immediately.
Tips for Making This Recipe
Make-Ahead Notes:
The fig mixture for this appetizer can be made ahead and refrigerated for up to 3 days.
Toasting the baguettes can be done several hours in advance.
For best flavor and texture, bring the ricotta, figs, and prosciutto to room temperature before assembling the crostini.