Poached Pears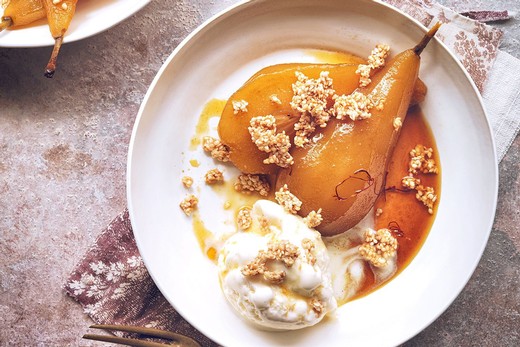 Recipe Date:
March 24, 2022
Measurements:
Imperial (US)
Ingredients
4 Pears
1 bottle Ruby Port (Fine Ruby or Select Reserve)
1/2 cup sugar
2 cinnamon sticks
1 pod star anise
4 cloves
1/2 tsp nutmeg
1 vanilla pod / 1 tsp vanilla essence
1/2 tbsp orange zest
1/2 tbsp lemon zest
Fresh ground black pepper
1/2 tsp salt
Directions
1. Combine all the ingredients, except the pears, in a saucepan and gently bring to a boil. Simmer the liquid gently for 5-10 minutes, whilst you peel and core the pears, leaving the stalk intact for decoration.
2. Drop in the pears and continue to simmer for around 30 minutes, gently turning the pears occasionally to ensure they cook evenly.
3. Remove the pears, and then reduce the remaining sauce by about half. Strain into a jug and pour generously over the pears. Serve immediately with cream or vanilla ice cream.