Mushroom, Kale & Butternut Squash Pasta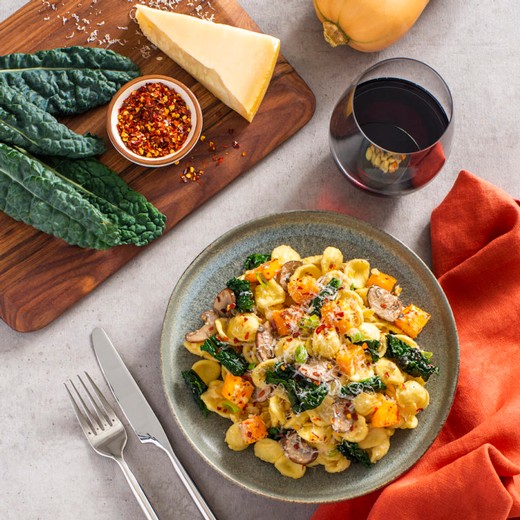 Recipe Date:
March 15, 2022
Measurements:
Imperial (US)
Ingredients
3 ozs butter
1/2 cup chopped oyster mushrooms or shitake
1/2 cup sliced cremini mushrooms
2 tbsps minced garlic
1/4 cup diced white onion
2 cups shredded kale
1 cup small of diced butternut squash
2 ozs White wine
2 cups 35% cream
1 cup shredded smoked gouda cheese
2 tsps salt
1 tsp pepper
6 cups cooked bowtie pasta
1/2 cup chopped green onions
1/4 cup toasted almonds
Directions
In a large frying pan (big enough for all ingredients) heat butter.
1. Cook onions, garlic, and diced squash on medium heat until onions are soft and starting to brown.
2. Add mushrooms and cook on medium for about 5 min.
3. Add white wine and stir. The wine should clean the bottom of the pan up and incorporate all that goodness.
4. Add kale, cream, cheese salt, and pepper. Cook till cheese is melted and kale is wilted slightly. (Approx 3 min)
5. Add pre-cooked noodles and toss together. Cook for another 3 min on medium to re-heat noodles.
6. Serve and top with toasted almonds and chopped green onions.