PORT WINE GANACHE MACARONS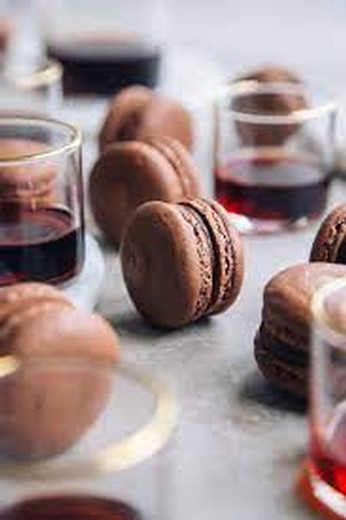 Recipe Date:
March 24, 2022
Measurements:
Imperial (US)
Ingredients
76 g (⅓ cup + 1 teaspoon ) Granulated Sugar
3 3 egg whites -Room Temperature Egg Whites
80 g (¾ Cup + 1 Tbsp) Almond Flour, Blanched
1 1/4 cups Confection's Sugar, Powdered Sugar
Gel Food coloring, optional
100 g (⅓ Cup + 1.5 Tbsp) Heavy Cream
1 1/2 tbsps Glucose syrup, or corn syrup
1 cup Dark chocolate, Roughly Chopped
2 tbsps Port wine
2 tbsps Unsalted Butter , room temperature
Directions
Equipment
Food Processor
Fine Mesh Strainer
Mixer with Whisk Attachment
Spatula
Bowls
Parchment Paper
Baking Tray
Piping Bags & Piping Tips
Immersion Blender (optional)
Saucepan
Macarons
Line each baking sheet with your prepared parchment templates and prepare your piping bags along with your piping tips. I like to use a small, round piping tips for piping.
Pour your egg whites into the bowl of a stand mixer and start whisking on medium speed. Once they start to foam, slowly add your sugar and bring up your speed to medium for about three to four minutes.
76 g Granulated Sugar,90 ml Room Temperature Egg Whites
While your meringue is whisking away, grind together your measured powdered sugar and almond flour using a food processor for one minute. Sift these dry ingredients into a large bowl with a fine sieve and set aside.
80 g Almond Flour,150 g Confection's Sugar
Your meringue is complete when it holds stiff peaks - add desired food coloring and gently whisk for a few additional seconds to incorporate,
Gel Food coloring
Now it's time for the ever so important Macaronage! This is the act of mixing your dry ingredients into your french meringue and folding these ingredients enough to allow for the perfect desired consistency. To start, pour your dry mixture onto the meringue and slowly start to fold with a spatula. While rotating the bowl, continue to fold ingredients together. Press mixture on the side of your bowl until the batter flows off your spatula rather slowly and smoothly. You should see that the batter will drip off the spatula back into the bowl, and rest on top for a moment. Then, the batter from your spatula will slowly sink back into the mixture. One too many folds and your batter could be over mixed leading to it being impossible to work with, so be careful not to overmix!
Pour your macaron batter into your prepared piping bag and pipe in circles onto your templated parchment paper. In order to get rid of any air bubbles within your piped shells and to even out your tops, tap your baking sheet firmly on a flat surface. You can always use a toothpick to gently pop any extra air bubbles that you see hovering on top of your shells.
Allow the shells to rest for approximately 30 minutes. Once the top of your shells are dry to the touch they are ready to bake!
Place your macarons in your oven that has been preheated to 310 degrees Fahrenheit. Bake for 9 minutes, then rotate the baking tray and bake for an additional 2 minutes.
You will know that your macarons are ready to remove from the oven when you gently touch the upper shell, and it barely moves, while the developed foot of the macaron stays set to the parchment paper. Remove from the oven to cool completely before removing shells from the parchment paper.
Port Wine Ganache
Add cream & glucose to a saucepan and bring to a slight boil.
100 g Heavy Cream,32 g Glucose syrup
Remove from heat and pour over the dark chocolate. Stir to combine as the warm cream starts to melt the chocolate.
175 g Dark chocolate
Add the butter into your warm chocolate mixture, using an immersion blender, blend ganache until the butter has fully incorporated and your mixture is smooth. Add port wine and fold to combine.
25 g Unsalted Butter,30 g Port wine
Allow the chocolate ganache to cool completely before assembly.
Assembly
Once cooled, the shells will peel easily off of your parchment paper. Find each shell's matching half and pipe a circle of port wine ganache into the middle. Finally, top with the matching half.
Notes
Tips to make the best macarons
Mise en place - Macarons are time-sensitive! Prepare your mise en place (meaning to set up your working space in preparation for an activity) before you get started so your ingredients and equipment are ready to go.
Use a piping template - A foolproof way of making perfect macaron shells every time is to trace identical 1-inch diameter circles onto the parchment paper to use as your piping template.
Use an oven thermometer - Baking the shells at the right temperature is important, so I highly recommend using an oven thermometer.
Weigh the ingredients - While macarons only use 4 ingredients, if one isn't measured correctly, your odds of macaron success are considerably lower. I highly recommend investing in a kitchen scale so everything is precise!
Storing your macarons - Technically, allowing your completed macarons to sit overnight in the fridge allows for the best texture for consuming! If you have the patience, place your macarons in the fridge overnight and enjoy the following day. Macaron shells can be stored in the freezer in an airtight container for a month and still taste as good as new! Take the frozen macarons out of the freezer and let them sit for 10-15 minutes before enjoying, In the fridge, filled macarons should be stored in an airtight container for no more than 3 days.
Practice makes perfect - It's no secret that making macarons can be tricky. Just keep practicing and experimenting with different macaron flavors, and you'll be a pro in no time!