Hearty Vegan Chili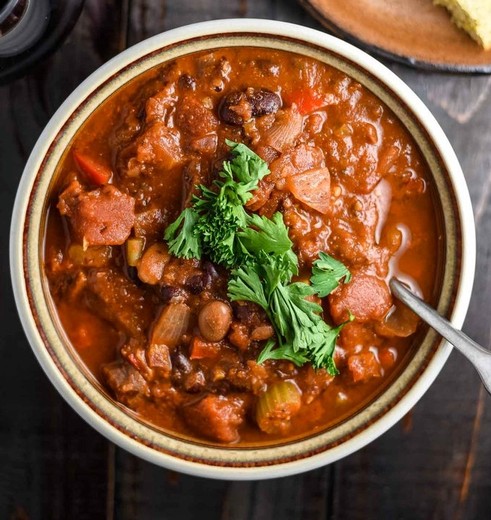 Recipe Date:
February 16, 2022
Measurements:
Imperial (US)
Ingredients
2 tbsps olive oil
1 medium sweet onion, chopped
1 red bell pepper, chopped
2 medium carrots, chopped
3 stalks celery, chopped
1 jalapeño, seeds removed and finely chopped
1/2 tsp salt
5 cloves garlic, pressed or minced
2 1/2 tbsps chili powder
2 tsps ground cumin
3 tsps smoked paprika
3 tsps dried oregano
1 tsp garlic powder
1 can (28 ounces) diced tomatoes
1 can (15 ounces) kidney beans, rinsed and drained
1 can (15 ounces) pinto beans, rinsed and drained
2 cups vegetable broth
2 bay leaves
3 tbsps fresh cilantro, chopped, plus more for garnishing
2 tsps sherry vinegar or red wine vinegar or lime juice, to taste
Garnishes: chopped cilantro, sliced avocado, vegan cheese
Directions
Warm the olive oil over medium heat in large Dutch Oven or pot. Once oil is heated and shimmering, add the chopped onion, bell pepper, carrot, celery, jalapeño, and salt. Cook vegetables, stirring occasionally, until the vegetables are tender, about 7 to 10 minutes.
Add the fresh garlic, chili powder, cumin, smoked paprika, oregano, and garlic powder. Cook until fragrant, stirring constantly, about 1 minute.
Add the diced tomatoes, kidney beans, pinto beans, vegetable broth and bay leaves to the Dutch Oven. Stir to combine and bring the mixture to a simmer. Continue cooking, stirring occasionally, for 30 minutes. You want a gentle simmer at this stage.
Remove the chili from heat. To make chili thicker and less soup-like, transfer about 1/3 of the chili to a blender. Pulse or blend gently until desired thickness is reached. I went for a roughly blended, thick soup.
Pour the blended mixture back into the pot. Add the chopped cilantro and vinegar, to taste. Add additional salt to bring out all of the flavors, chili powder for more heat, smoked paprika for smokiness, or garlic powder for garlicky wonderfulness.
Divide the mixture into bowls and serve with garnishes of your choice.
Store covered in refrigerator for up to 4 days.