Grilled Cheese Sandwich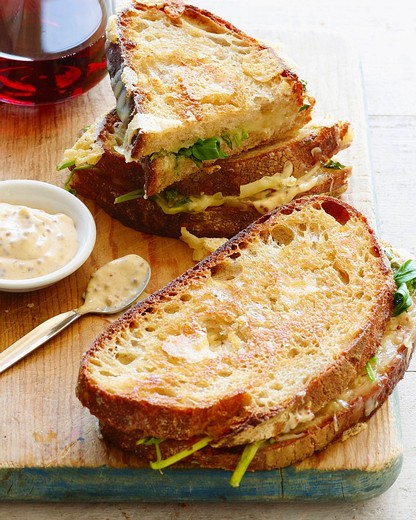 Recipe Date:
March 15, 2022
Measurements:
Imperial (US)
Ingredients
1 cup (4 ounces/115g) shredded Fontina cheese
1/2 cup (2 ounces/60g) shredded Jack cheese
1/2 cup (2 ounces/60g) shredded Gruyere cheese
8 rustic-style sandwich bread slices
unsalted butter, softened
1 cup (1 ounce/30g) watercress, with stems
3 tbsps (45ml) mayonnaise
1 tbsp (15ml) brown, stone ground, or Dijon mustard
Directions
1. Toss to mix the Fontina, Jack, and Gruyere cheeses in a medium bowl.
2. Use your fingers to pinch 2 small holes, 2 inches (5cm) apart, in each slice of bread (to allow a little cheese to ooze out and make the bread extra crispy).
3. Spread a thin layer of butter on one side of each slice.
4. Arrange 4 of the slices, butter-side down, in a large skillet.
5. Cover each slice evenly with a quarter of the cheese mixture.
6. Cover the cheese with a quarter of the watercress.
7. Top the watercress with the remaining slices of bread, butter-side up.
8. Place the skillet over medium-low heat and cook the sandwiches for 8 minutes, or until golden brown on the bottom. Turn the sandwiches and brown the other side.
9. Transfer the sandwiches to a cutting board, turning them so that the watercress is on top of the cheese.
10. Mix the mayonnaise with the mustard to make the aioli. Remove the top slices of bread and spread the unbrowned sides with the desired amount of aioli. Replace the bread, brown-side up, on the sandwich. Serve immediately.