GLUTEN-FREE DAIRY-FREE CREAMY CHICKEN PASTA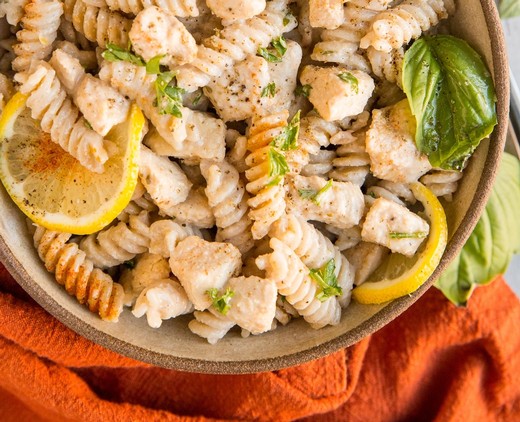 Recipe Date:
March 9, 2022
Measurements:
Imperial (US)
Ingredients
12 ozs gluten-free pasta noodles
2 tbsps avocado oil
1/2 yellow onion, finely chopped
6 cloves garlic, minced
1 1/2 lbs boneless skinless chicken breasts, chopped
15 ozs can full-fat coconut milk Zest of 2 lemons
3 tbsps lemon juice, to taste
1 tsp sea salt, to taste
1/2 cup fresh basil, chopped, optional
Directions
1. Cook the pasta according to the package instructions. Note: I typically cook it 2 minutes less than the package says to ensure the noodles turn out al dente. Drain the noodles and set them aside until you're ready to use them. You can cook the noodles and the sauce for the pasta at the same time.
2. Heat the avocado oil in a large skillet over medium-high heat. Add the onion and saute, stirring occasionally, until softened, about 5 minutes.
3. Stir in the garlic and chicken breast and allow the chicken to brown for a few minutes before stirring. Continue cooking another 2 to 3 minutes, or until the chicken has browned substantially but isn't fully cooked.
4. Add the coconut milk, lemon zest, lemon juice, and sea salt to the skillet and stir well. Bring the sauce to a full boil and cook for another 5 minutes, or until the chicken has cooked through. Note: If you're adding anything else, such as parmesan cheese, sun-dried tomatoes, etc., do so now.
5. Stir the cooked noodles into the sauce until everything is well-combined.
Taste the pasta for flavor and add more sea salt, lemon juice, and/or garlic powder to taste.