BARBERA GRILLED FLANK STEAK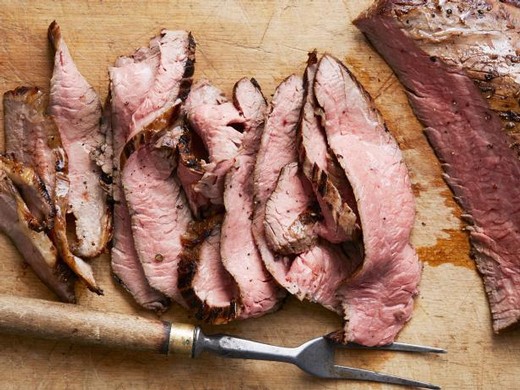 Recipe Date:
March 17, 2022
Measurements:
Imperial (US)
Ingredients
1 large white onion, diced
1/2 medium carrot diced
1 stalk celery diced
1 tbsp olive oil
1 750 ml Barbera wine
1 large garlic clove, peeled
2-3 bay leaf
a few whole cardamom cloves, one cinnamon stick, some juniper berries
1/4 tsp freshly ground nutmeg
1 handful mixed fresh herbs such as rosemary, sage, thyme tied together with a string
1 cup beef stock
2 tbsps cold butter, unsalted
1 shot cognac
1 16-24 ounces flank steak
salt and freshly ground black pepper
one bunch of parsley leaves, chopped
Directions

Marinade:
1. Sweat the onion, carrot and celery with the olive oil until translucent in medium-large pot.
2. Add the Barbera wine, the garlic, the bay leaves, the cloves, the cinnamon, the juniper berries, the nutmeg and the tied herbs.
3. Cook on medium heat for about 10 minutes. Add the beef stock and cook for another 5 to 7 minutes.
4. Remove and discard bay the leaves, cinnamon and rosemary and the thyme stalks. With an immersion blender puree the vegetables and the liquid until smooth.
5. Boil the sauce over medium-high heat, uncovered, until the sauce is reduced and slightly thickened, about 10 minutes. Drop in the butter and swirl it through the sauce until glossy.
6. Add a shot of cognac and reduce it until the alcohol has evaporated, about two minutes. Taste for seasoning, add salt and pepper, if necessary. It can be prepared a day in advanced.
Keep refrigerated until ready to use.

Flank Steak:
1. Season the flank steak on both sides with salt and pepper. Place the steak in the Barbera sauce and turn once or twice, then let sit in the sauce until the grill is hot.
2. Turn the steak one more time, then place on the grill; brush a couple of tablespoons with the Barbera sauce over it, reserve the rest of the sauce. For rare meat, grill about 3 minutes a side for steaks less than an inch thick. For larger or more done steak, increase the time slightly.
3. Rest the steak for 10 minutes and slice at a diagonal, against the grain. Serve with the chopped parsley and the reserved sauce on the side.