Easy Vegan Falafel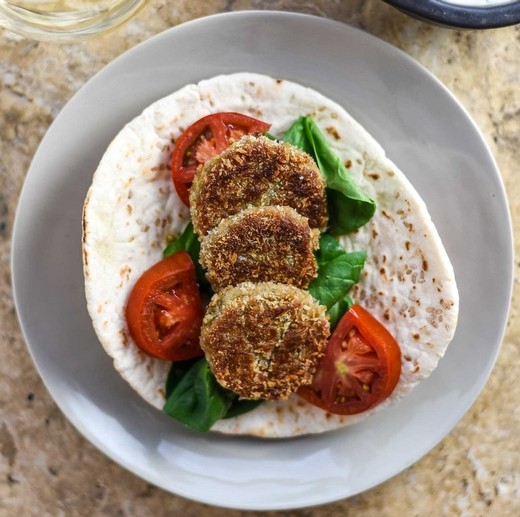 Recipe Date:
February 16, 2022
Measurements:
Imperial (US)
Falafel is a big time favorite at our house. We love it equally for the crunch, warmth, and protein it adds to salads and the entree-sized realness it brings to warm pita pockets, stuffed spinach, tomatoes, tahini-based sauce or tzatziki, and pickled vegetables. This simple vegan falafel recipe requires minimal ingredients and comes together with the help of a food processor and frying pan. No deep frying required which helps keep it on the healthier side of the falafel continuum. This dish is s bursting with cumin, coriander, cardamom, and garlic flavors, which means that your mouth will be fully entertained the whole way through. I also love falafel because it opens the door to versatile sauce pairings. Try it with a tahini cumin lemon sauce, olive hummus, or pair it with this refreshing and light vegan tzatkiki sauce. You can also dress it up with your favorite hot sauce, pickled vegetables, or fresh greens.
Directions
1. Add chickpeas, parsley, onion, garlic, pecans, cumin, salt, pepper, coriander, and cardamom to a food processor or blender. Pulse to combine, scraping down sides as needed. If you want your falafel to have a smoother texture, pulse until a smooth paste forms. If you prefer a more traditional texture, pulse until roughly blended and still crumbly looking.
2. Add 1 tablespoon of flour at a time and pulse to combine. The goal is to dry out the dough so it doesn't stick to your hands while forming the falafel. I used about 6 tablespoons of flour.
3. Taste and adjust seasonings as needed. I added a bit more salt and pepper to bring out the other spices. The falafel should be flavorful so don't worry if it feels like you're adding a lot of spice.
Transfer to a mixing bowl. Cover and refrigerate for 1-2 hours. This step is not required but it will help the falafel be less sticky when forming the patties and stronger during the cooking process.
4. On a separate plate, pour Panko bread crumbs to form a thin layer (this will be used for coating the falafel).
Once chilled, scoop out rounded tablespoons and gently form into small discs. Coat each small disc with Panko bread crumbs on both sides.
5. Heat a large skillet over medium heat and add enough oil to generously coat the pan (about 2 tablespoons).
Once the oil is hot, add only as many falafel as will fit comfortably in the pan at one time. I did two rounds of falafel cooking.
Cook for a total of 4-6 minutes, flipping halfway when the underside is deep golden brown.
6. Repeat until all falafel are browned – the deeper golden brown they are, the crispier they'll be. They will also firm up more once slightly cooled.
Once cooked, transfer to plate lined with paper towels in order to soak up any excess oil before serving.
Serve warm with vegan tzatziki or olive hummus, inside a pita with desired toppings or atop greens.
Best when fresh. Store leftovers in covered container in refrigerator for up to 3 days.