Cioppino Seafood Stew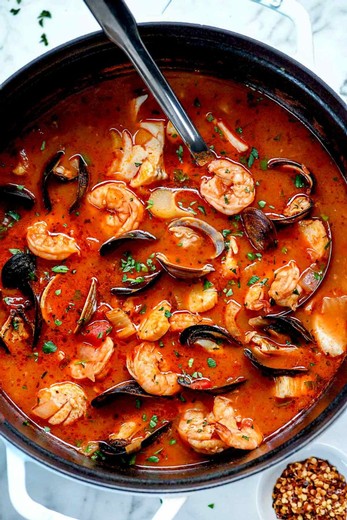 Recipe Date:
March 15, 2022
Measurements:
Imperial (US)
Ingredients
1/4 cup olive oil
2 cups fennel bulb white part only, cut into 1/2-inch dice
1 1/2 cups yellow onion 1 large, cut into 1/2-inch dice
3 garlic cloves pressed or minced
1 tsp whole fennel seeds
1/2 tsp red pepper flakes
1 28-ounce can crushed tomatoes
4 cups seafood stock
1 1/2 cups dry white wine such as Pinot Grigio
kosher salt and freshly ground black pepper
1 lb cod fillets skin removed, cut into 2-inch dice
1 lb large shrimp peeled and deveined
1 lb sea scallops halved crosswise
1 dozen mussels scrubbed
1 dozen littleneck clams or other small clam
1 tbsp anise flavored liqueur such as Pernod or Pastis
3 tbsps parsley minced
Directions
1. Heat the olive oil in a heavy pot or Dutch oven over medium heat. Add the fennel and onion and sauté for 10 minutes, until tender.
2. Stir in the garlic, fennel seeds, and red pepper flakes and cook for 2 minutes, until fragrant.
3. Add the tomatoes, stock, wine, 1 tablespoon salt, and 1 teaspoon black pepper. Bring to a boil, lower the heat, and simmer uncovered for 30 minutes.
4. Add the seafood in the following order: first the cod, then the shrimp, scallops, and finally the mussels. Do not stir. Bring to a simmer, lower the heat, cover and cook for 10 minutes until the seafood is cooked and the shellfish open.
5. Stir in the liqueur, being careful not to break up the fish; cover and set aside for 3 minutes for the flavors to blend. Discard any mussels that have not opened.
6. Ladle into large, shallow bowls, sprinkle with parsley and serve with slices of sourdough baguette.