Butter Nut & Acorn Squash Soup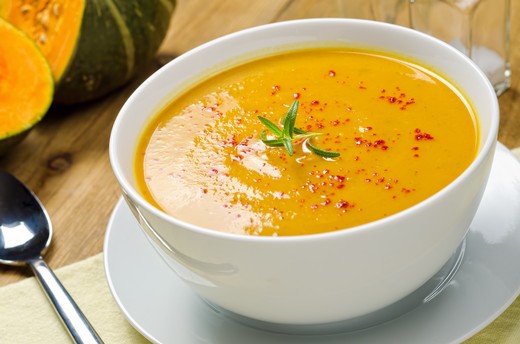 Recipe Date:
November 1, 2018
Measurements:
Imperial (US)
Ingredients
1 butternut squash
1 acorn squash
6 cups rich chicken stock
1/2 cup cream* (if desired)
1/2 stick unsalted butter (room temp)
1 tbsp Madras curry power
1/4 tsp cinnamon
Directions
*Note: this soup already has a natural creaminess, but if you want to raise the bar, the cream will round it out and add an elegant mouthfeel to the finished soup.

Method:
Cut both squashes in half and place them face down on a parchment lined sheet pan. Bake at 350 degrees for 1 hour or until soft and tender. While still warm, take a spoon and scrape the seeds out of each half then scoop all the squash out and into a med size pan. Add 5 cups of the hot chicken stock and use a hand-held blender to blend everything together until smooth. Add salt and pepper to taste and the cream if desired. Blend one more time and adjust the thickness with more stock if needed.

Table your room temp butter and using a food processor place the butter into the work bowl and add the curry and process until fully incorporated. Take the curry butter and move it out of the work bowl and into a zip lock bag. Now cut the corner of the ziplock and squeeze the curry butter into a squirt bottle for easy distribution on top of the soup at service time.
To serve:
Use 4 hot soup bowls and ladle equal parts between your 4-soup bowls. Now take the curry butter and squeeze the curry butter into the center of the hot soup and it will start to melt by the time you serve.