Bruschetta with Warm Goat Cheese, Roasted Asparagus, and Pistachio Pesto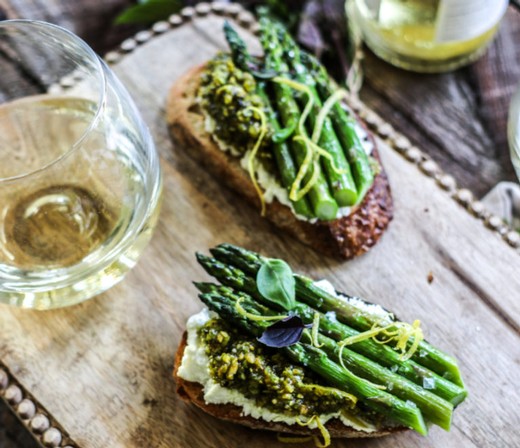 Recipe Date:
March 16, 2022
Measurements:
Imperial (US)
Ingredients
1/4 cup (35 g) raw pistachios
16 large basil leaves
1 small clove garlic, sliced
1/4 cup (60 ml) extra virgin olive oil
1 tsp grated lemon zest
sea salt
Fresh lemon juice
2 dozen very slender asparagus, tough ends removed
4 slices sourdough bread, each about 4 by 3 inches (10 by 7.5 cm) and ½ inch (12 mm) thick
2 tbsps extra virgin olive oil, plus more for brushing
1/4 lb (110 g) fresh goat cheese with no rind
Directions
Preheat the oven to 450°F (230°C).
Make the pesto: In a food processor, combine the pistachios, basil, garlic, and olive oil and pulse until the basil and nuts are finely chopped but do not grind to a paste. Transfer the pesto to a bowl and stir in the lemon zest and salt to taste. Add a few drops of lemon juice to balance the flavor.
If necessary, trim the asparagus spears so they are no longer than the bread. Place them on a baking sheet and toss with enough olive oil to coat them lightly, about 2 to 3 teaspoons. Sprinkle with salt and roast until they are tender and starting to char, about 8 minutes.
If the goat cheese is firm enough to slice, cut into three or four evenly thick slices and place them in a lightly oiled baking dish just large enough to hold them. Drizzle with 1 tablespoon olive oil. If the goat cheese is too soft to slice, spoon it into a lightly oiled baking dish, flattening it slightly with the back of a spoon, and drizzle with 1 tablespoon olive oil. Bake until the goat cheese quivers when touched, like a soft custard, about 5 minutes.
Toast the bread. Brush one side of each toast with olive oil. Divide the warm cheese among the toasts, spreading it evenly. Top each toast with asparagus and a dollop of pesto, dividing evenly. Serve immediately.