Barbecued Salmon With Pesto Sauce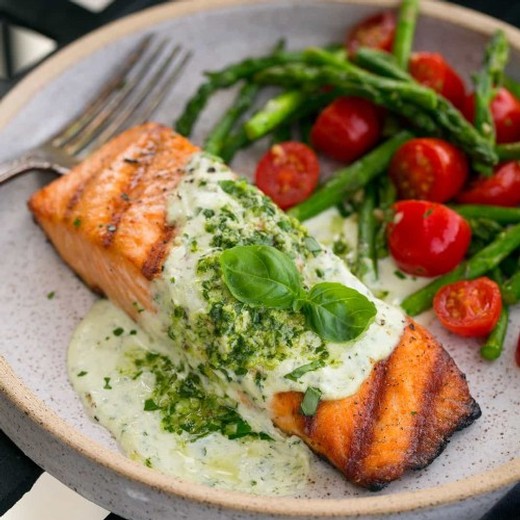 Recipe Date:
March 8, 2022
Measurements:
Imperial (US)
Ingredients
4 cloves garlic
1 shallot
1/2 cup fresh basil
1/4 cup fresh mint leaves
1/4 cup fresh cilantro
1/4 cup roasted cashews (325 degrees heat for 15 minutes)
1/4 tsp Kosher salt
1/4 cup olive oil
1 tsp Asian chili sauce
1/4 cup grated imported Parmesan
Directions
Process 1-10 ingredients in a food processor with the motor running. Drop garlic down the feed tube, followed by the shallot, basil, mint, cilantro and nuts – mince finely. Add oil in a slow, steady stream. Add salt, cheese and chili sauce and process for another 10 seconds. Makes about a cup and a half. Set aside in refrigerator.Combine ingredients and marinate fish for 1 hour.
Salmon marinade:
6 tablespoons freshly squeezed lemon juice
1/4 cup olive oil
1/4 cup white wine (you can also use the barbera)
1/2 teaspoon freshly ground black pepper
Cook fish on the barbecue until it flakes (you can also broil). Just before serving mix another one-quarter cup wine with one-half cup whipping cream and bring to a boil in a 10-inch skillet. Add one-half cup New World pesto sauce, mix, adjust seasoning and spoon over the fish. Serve with barbecued vegetables. The barbera pairs well with vegetables, particularly tomatos, because of the acid balance.