Baked Pears with Coconut Chocolate Crumble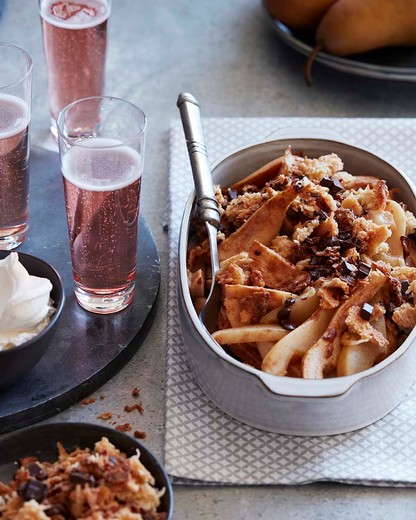 Recipe Date:
March 17, 2022
Measurements:
Imperial (US)
Ingredients
2 tbsps (30ml) brown sugar
1 tbsp (15ml) all purpose flour
2 tsps (10ml)ground cinnamon
6 6 Bosc pears (about 2 pounds/900g), peeled, quartered, cored and cut lengthwise into ½ inch (1.25cm) slices
2 tbsps (30ml) fresh lemon juice
1/2 cup (120ml) water
1 1/2 cups (120g) sweetened flaked (dried) coconut
1 cup (125g) all purpose flour
3 tbsps (45ml) brown sugar
1/2 tsp (2.5ml) sea salt
1 stick (4 ounces/113g) unsalted cold butter, cut into small cubes
2 ozs (57g) bittersweet chocolate pieces
Directions
Preheat oven to 375° F (190° C)
Mix the 2 tablespoons (30ml) brown sugar, 1 tablespoon (15ml) flour, and cinnamon in a small bowl.
Toss the pears with the lemon juice in a large bowl.
Add the cinnamon mixture and toss again.
Spread pear slices evenly into a buttered 9-by-13-inch (23-by-33-cm) baking dish and drizzle with the water.
Bake in the preheated oven for 50 minutes or until pears are tender.
While the pears are baking, make the crumble.
Mix the coconut, 1 cup (125g) flour, 3 tablespoons (45ml) brown sugar, and salt in a large bowl.
Using your fingers, pinch the butter into the coconut mixture to form a slightly damp coarse mix with pea-size crumbles.
Spread the mixture on a cookie sheet and bake for 12 minutes or until golden brown. (Can be baked in the oven with the pears).
Remove the crumble from the oven and let cool for 5 minutes. Sprinkle chocolate evenly over the crumble and let rest for at least 5 minutes before serving.
To serve, divide pear slices among 6 dessert plates and top each serving with a spoonful of crumble.
Top with whipped cream or a scoop of vanilla ice cream if desired.