Apple Glazed BBQ Baby Back Ribs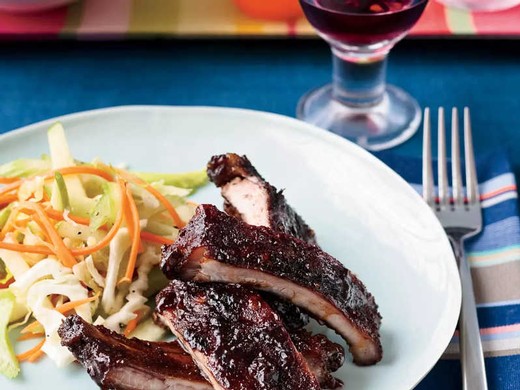 Measurements:
Imperial (US)
These sticky, apple-scented ribs are cooked in the oven, then finished on the grill. They're a simpler version of a recipe by champion pit master Chris Lilly, author of the new Big Bob Gibson's BBQ Book, who cooks his ribs entirely on the grill. To follow Lilly's example, use a thermometer to keep the temperature at a steady 250° and wrap the ribs in foil after adding the apple cider mixture.
Ingredients
1/2 cup dark brown sugar
4 tsps pure ancho chile powder
1 tsp ground black pepper
1/4 tsp cayenne pepper
1/4 cup apple jelly, melted
2 racks baby back ribs (about 4 lbs. total)
4 tsps garlic salt
2 tsps salt
1/2 tsp celery salt
1/4 tsp cinnamon
1/2 cup apple cider
1/4 cup honey
1 cup prepared BBQ sauce
Directions
Preheat the oven to 250º F. In a bowl, mix 1/4 cup of the sugar with the garlic salt, chile powder, salt, black pepper, celery salt, cayenne, cinnamon and white pepper. Transfer 1 tablespoon of the spice mix to a medium bowl and whisk in the cider, apple jelly, honey and the remaining 1/4 cup of sugar. Pull the membrane off the underside of each rib rack using a towel to grasp the corner. On a rimmed baking sheet, rub the ribs with the remaining spice mix; bake, meaty side up, for 2 1/2 hours. Pour the cider mixture over the ribs and turn to coat. Tightly cover with foil and bake for 1 hour. Light a grill. Uncover the ribs and brush with the BBQ sauce; grill over moderate heat, turning and brushing, until glazed, 15 minutes. Let rest for 10 minutes, then cut between the bones and serve.
Enjoy!