"Truffle" Risotto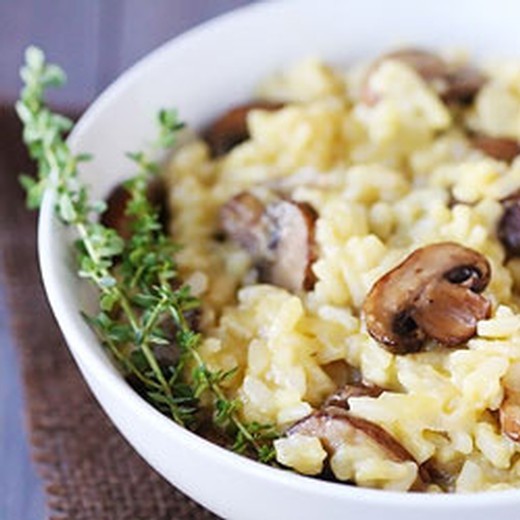 Recipe Date:
March 22, 2022
Measurements:
Imperial (US)
Ingredients
7 cups chicken broth, preferably low-sodium Boiling water, as needed
1 tbsp olive oil
½ stick (¼ cup) unsalted butter, divided
1 lb fresh crimini and portobello mushrooms, trimmed and sliced
1/4 lb fresh wild mushrooms trimmed and chopped into ½-inch pieces (or 1-ounce dried porcini mushrooms, wiped of grit)
2 tbsps fresh thyme, chopped (optional)
1 tbsp white truffle oil, or to taste
1/3 cup finely chopped shallots
2 cups Arborio or Carnaroli rice
1/2 cup dry white wine
3/4 cup grated Parmigiano-Reggiano cheese
Fresh Italian parsley, to garnish
Directions
Heat the chicken broth into a medium saucepan and bring to a boil over high heat. Decrease the heat to the lowest setting, cover and keep hot.
If using dried mushroom, reconstitute them in 1 cup of warm chicken broth.
In a large saucepan, heat olive oil and 1 tablespoon butter over medium-high heat until butter foams. When foaming subsides, add the fresh mushrooms and thyme. Saute, stirring occasionally, until browned and the liquid that the mushrooms release has evaporated, about 4 minutes. Drizzle in truffle oil then add the dried mushrooms if applicable. Season again with salt and fresh cracked pepper. Saute 1 minute then remove from heat and transfer them to a bowl.
Return the saucepan to medium heat. Add 2 tablespoons butter and heat until butter foams. When foaming subsides, cook shallots until softened, stirring frequently with a wooden spoon, about 3 to 4 minutes. Add rice and cook, stirring constantly until evenly coated with butter and heated through, about 3 minutes. This step cooks the starchy coating and prevents the grains from sticking. Stir in wine and cook until it is nearly all evaporated.
Increase heat to medium and add about 1 cup of hot broth to the rice. Cook, stirring constantly with a wooden spoon, over medium heat until broth is almost fully absorbed. Add the remaining broth, 1 cup at a time. Continue to cook and stir, allowing the rice to absorb each addition of broth before adding more. The risotto should be slightly firm and creamy, not mushy after about 16 to 20 minutes. Use boiling water if no broth remains and the rice requires more cooking time.
The risotto is done when the grains are plump and tender with a slight resistance to the bite. Season to taste with salt and white pepper. Remove from heat and stir in the remaining 1 tablespoon butter, sautéed mushrooms, and Parmigiano-Reggiano cheese. If risotto is too thick, use any leftover broth or boiling water to thin as needed. To serve, ladle risotto into 4 warmed shallow serving bowls. Sprinkle with parsley, drizzle with truffle oil and serve immediately.