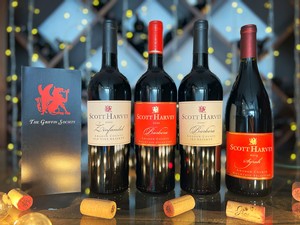 Scott Harvey Pack Gift Membership - Gift with purchase! $50 Scott Harvey Wines gift card!
Give the gift of membership!
Our Scott Harvey Pack Gift Membership includes four bottles of Scott Harvey Wines' most popular varietals shipped three times a year. Twelve months of membership benefits and shipping to your recipient is included.
Shipments will be sent in December 2022, May 2023 and October 2023 and will include wines such as J&S Reserve and Moutain Selection Barbera, Syrah, Zinfandel, Petite Sirah, and Winemakers Reserve Zinfandel.
To order, include your recipients address as the shipping address.
No discounts apply.